Jeremy Meeks, the "Hot Convict" Who Scored an Agent, Is Out of Prison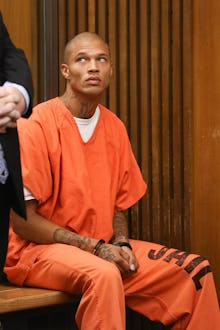 Jeremy Meeks, the "hot convict" whose mugshot featuring his piercing blue eyes and glowing tanned skin went viral when he was arrested on felony weapons charges in 2014, is out of prison and ready to model. Meeks was sentenced to 27 months in 2015, but his newly-acquired agent Jim Jordan told Buzzfeed he's a free man after serving less than half that time in California's Mendota Federal Correctional Institution. 
"We're putting everything in place," Jordan told BuzzFeed. "We're in talks with a lot of different agencies. There's movies on the table. We have a lot of different things happening."
Read more: Christian Group One Million Moms Thinks TV's 'Lucifer' Is Too Damn Sexy
In late 2015, Meeks told ABC News from prison that he's "in a place where I will be able to provide for my family and really change my life," and that he felt #blessed everyone finally recognized his ridiculously good looks. "I never thought that everyone in the world would recognize me for my looks, so I feel extremely blessed and very thankful," he said. 
Plus, Jordan told Buzzfeed prison wasn't even half bad for Meeks. "The other prisoners were real nice to him," he said. And Meeks used it as an opportunity to shape up for his seemingly inevitable future modeling career. "I eat healthy. I do a lot of push-ups, pull-ups, dips, burpees, and I stay very active," he told ABC News.
In his latest Instagram post, Meeks posted a shirtless picture of him and his tatted bod on a speedboat captioned "Looking forward to my time on the lake with my kids."