Gun Rights Activist Was Accidentally Shot By Her 4-Year-Old Son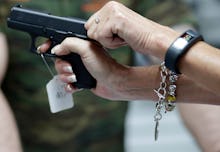 Florida gun rights activist Jamie Gilt, who runs a Facebook community page titled "Jamie Gilt for Gun Sense," was shot Tuesday when her four-year-old son accidentally discharged a firearm into her back.
The 31-year-old Gilt is in stable condition at UF Health Shands Hospital in Gainesville, Florida, First Coast News reported, and told investigators her son had fired the gun from the backseat of her vehicle. Authorities told the station they had not yet ascertained how Gilt's son gained access to the firearm.
In the state of Florida, it is a misdemeanor to leave a loaded gun where children can access it.
In the time up to being shot with a gun, Gilt was fond of sharing gun rights memes on her page.
According to the Florida Times-Union, on Monday, the day before the shooting, she replied to a commenter by saying "Thanks. All of ours know how to shoot too. Even my 4-year-old gets jacked up to target shoot the .22." 
Just over a year ago, she posted a photo of her "new toy" to Twitter.
The .22 was not the gun with which she was shot, but a .45 pistol, reported the Time-Union.
Gilt has since either deleted her Facebook community page or made it inaccessible to the public on Facebook.
According to Politifact, approximately 73,505 non-fatal firearm injuries were reported to the Centers for Disease Control and Prevention in 2010.
Read more: Black Friday Saw a Record Number of Gun Background Checks
Get the five stories that will challenge you to rethink the world by signing up for MicCheck Daily.