'Game of Thrones' Author George R.R. Martin Assures Worried Fans He's "Not Dead Yet"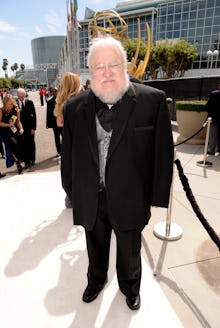 It was another tragic day in pop culture — which has already set a slew of unfortunate deaths from British icons — with the passing of Beatles producer George Martin. The collective response from the industry was understandably somber, with several artists paying tribute to the "fifth Beatle" on social media. 
However, Martin's death caused an accidental Twitter blowout for sci-fi fantasy fanatics — as the late Beatles producer shares a strikingly similar name to George R.R. Martin, the author of the highly popular A Song and Ice and Fire novels, which were adapted into the HBO series Game of Thrones. 
Read more: George R.R. Martin Confirms the Bad News You Already Knew About 'The Winds of Winter'
Fans on Twitter swarmed to express their dismay over the author's apparent death, and even a local network from Reno, Nevada, initially posted an update about the producer's death using George R.R. Martin as the lead image. 
As a result, Martin quelled his nervous but completely mistaken fans in a post on his Live Journal blog titled 'Not Dead Yet.' 
"While it is strangely moving to realize that so many people around the world care so deeply about my life and death, I have to go with Mark Twain and insist that the rumors of my death have been greatly exaggerated," Martin wrote. " ... I am still here, still writing, still editing, still going to movies and reading books, and I expect to hang around for quite a while yet, thank you very much."  
In a tribute to Martin — the Beatles producer — the author also posted a video of the group performing "Yesterday." 
Rest easy Thrones fans, and no need to pray to the Old Gods, or the New: Martin is alive and well. Unfortunately, the same cannot be said about the highly anticipated release of the sixth book in the series, which is still very much a mystery.