What Is Kim Kardashian's Net Worth Compared to Kanye West's?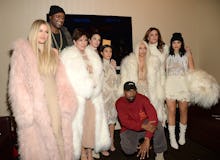 Kim Kardashian West might be the queen of selfies and social media, but her net worth is minuscule compared to that of her husband, the always-controversial king of outbursts Kanye West. While Kardashian West is a reality star, social media superstar, mobile gaming entrepreneur and executive producer, West has ample career pursuits of his own which have paved the way for him to grow his net worth. 
Kardashian West reportedly has an estimated net worth of $85 million — which is exorbitant, but not when compared to Yeezy's reported $145 to $180 million. However, Kardashian West raked in a cool $52.5 million in 2015, over double what she'd made the previous year, according to Forbes.
Read more: How 'The Life of Pablo' Offers a History of Kim Kardashian and Kanye West's Relationship
What's more, it appears Kardashian West is out-earning her beau. Her explosive 2015 income secured her a spot on Forbes' 2015 Celebrity 100 list of top-paid entertainers, where Kardashian West reached number 33. West, however, didn't even make the cut, which would mean he earned less than half of what Kardashian West raked in last year, despite the launch of his sneaker line and Yeezy season installment. 
Meanwhile, West is complaining he may be $53 million in debt after producing his third line of Yeezy season, his collaborative shoe line with Adidas and his latest album, The Life of Pablo. However, the two appear to have a combined net worth of well over $200 million — whether they have a joint bank account or not.