This Heartbreaking Moment in the Democratic Debate Had Nothing to Do With the Candidates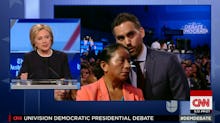 In one of the most touching and intimate moments from the presidential debates in this campaign, Sen. Bernie Sanders and former Secretary of State Hillary Clinton answered a question from a Guatemalan woman, Lucia. 
Lucia spoke very somberly and said she had a great pain – "dolor" — that she and her children shared. Because her husband did not have a license, he was deported back to Guatemala three years ago — the last time her and her five children saw the family patriarch. 
Lucia wanted to know how Sanders and Clinton would work to unite, rather than divide, families like her own who have been negatively affected by the United States' immigration system. 
As she spoke, Univision reporter Enrique Acevedo translated the words from Spanish to English so the nominees could understand the mother's words. Both candidates answered that they would work to unite families like hers. 
However, it was during each candidate's responses that a truly magic television moment was captured. As Clinton and Sanders spoke in English, the CNN reporter whispered into Lucia's ear in Spanish, facilitating the exchange between the candidates and this woman whose family was torn apart:
And people's hearts melted. 
While some politicians are hoping to build a wall to keep people out of the country, tonight's debate made one thing clear: language will never be a barrier to progress. 
Watch the full clip here: