There's Good News For Women Who Make the First Move on Dating Apps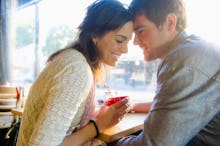 Women on OkCupid and other dating apps who make the first move are luckier in love than their male counterparts.
That was the result of a new study from OKCupid that analyzed 70,000 user profiles and found that women were 2.5 times more likely to get a response than a man who sent the first message to a woman. 
As icing on the cake, the woman-forward approach also led to securing more attractive men overall, as measured by the site's metrics, the New York Times reported Wednesday.
"Most women on OkCupid are still waiting to be messaged, which means they're settling and not even realizing it," the study said. 
"Based on what we know," the study continued, "if you're a woman and receive a message, the man who sent it is about 5 percentile points less attractive than you. But if you send the first hello, the man is about 7 percentile points more attractive than you. So if you typically wait to be approached, you could elevate your game by about 12 percent points just by sending the first message."
In many ways, the study is late to the game when understanding the value of a woman-forward approach. The idea that women get better outcomes when they initiate conversation is one of the underlying concepts of the dating start-up Bumble. The app is essentially Tinder, but with the added twist that after both parties initiate interest, the woman is required to make the first move. 
"I know guys get sick of making the first move all the time," Bumble founder Whitney Wolfe told Business Insider in 2015. "Why does a girl feel like she should sit and wait around? Why is there this standard that, as a woman, you can get your dream job but you can't talk to a guy first?" 
Correction: March 10, 2016