Daisy Ridley Has a Must-Read Message for the Troll Who Body Shamed Her on Instagram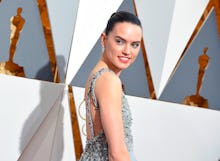 While body shamers typically aim to tear down curvier people for not being thin enough, people of all sizes can be targets of body shaming.
Star Wars actress Daisy Ridley learned this the hard way when someone left a comment on a now-deleted Instagram post chiding the star for being too thin. Instead of chalking it up to the work of an internet troll, Ridley took the opportunity to stand up for herself, her character in The Force Awakens and anyone who has ever been shamed for their body type, and posted a screenshot of her response as its own Instagram post.
"I'm a normal girl thrust into extraordinary circumstances, just like Rey," Ridley wrote. "I will not apologize for how I look, what I say and how I live my life 'cause what's happening inside is much more important anyway and I am striving to be the best version of myself, even if I stumble along the way."
According to the Guardian, the original post she commented on was a meme of Ridley as Rey, with a speech bubble that said, "I can't believe the unrealistic expectations I'm setting for young girls. Who cast me anyway? Don't they know real women haves curves?"
The actress went on to mention, sarcastically, that it was "apt" she received these body-shaming comments just after the misogynistic comments she received on an International Women's Day post the day before. 
"For all of those who celebrate each other, celebrate the ones you love, love yourselves, work hard, are kind, thank you for your continued support and social media love," Ridley continued. "For anyone who has a problem with ANYONE in life ... if you don't have anything nice to say don't say anything at all. Kindness isn't going to cure the world of its awfulness but it's a good place to begin."
So don't worry about Ridley — she can handle herself.