Sharon Osbourne Posts Naked Selfie to Support Kim K, and Twitter Was None too Kind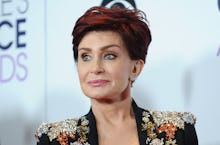 Reality television veteran Sharon Osbourne followed in the naked footsteps of Kim Kardashian West by posting a nude selfie to Instagram Wednesday, and perhaps as is to be expected, users on social media had opinions. Osbourne, who is the wife of famed british hard rocker Ozzy Osbourne, captioned the post, "@kimkardashian you inspired me! #liberated #thetalk." 
Read more: Kim Kardashian West Breaks the Internet Again With New Nude Photo
"Does posting a nude of yourself mean [you're] liberated and free get a grip [you're] a mother and a grandmother #attentionseeking," commented one user on Instagram. Other comments included, "No," "Wtf," "Why you do this" and "What is this world getting into?" The discourse didn't stop there, as users across Twitter weighed in on the debate, to varying degrees of success properly spelling the celebrity's name. 
Of course, scores of people on social media had the opposite response, and many applauded Osborne for what they saw as a bold and daring move. For the record, the response to Kardashian West's nude posts were just as divisive. 
"Wow, it's insane how many people are offended by nudity," one user on Instagram commented on Osbourne's post. "Grow up."
"Sharon you still rock, good job," wrote another Instagram user. "Sharon is this really you?" asked another. "Wow!! You look marvelous mamma. Nice picture!"
Others on social media echoed the same joke, which would resonate with fans who watched the Osbourne's reality television show. "Sharon!" many wrote, (to be read in the cadence of Ozzy's barking voice). 
The nude selfie move may be a "thing" now, and speaks to a "bare all" mentality of the celebrity elite. With so much of life lived online these days, fans are closer than ever before to getting a close-up view on the celebrities they follow. Adding to the theme of "baring all," Kardashian West took her stunt one step further by sharing with fans a seething (subscription only) blog post, which may in fact help audiences make sense of all this madness.
"It always seems to come back around to my sex tape," Kardashian West wrote. "Yes, a sex tape that was made 13 years ago. 13 YEARS AGO. Literally that long ago. And people still want to talk about it?!?!"
"I lived through the embarrassment and fear, and decided to say, who cares, do better, move on. I shouldn't have to constantly be on the defense, listing off my accomplishments just to prove that I am more than something that happened 13 years ago."