Who Is Egor Tarabasov? Lindsay Lohan's Boyfriend Is Heir of Russian Business Empire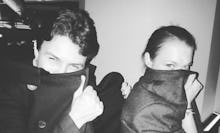 Lindsay Lohan, who dated a female DJ and landed a documentary series with Oprah's network about her sobering up, is now dating a Russian business heir named Egor Tarabasov — you know, the natural progression of one's love life in Tinseltown. However, Lohan moved out of Hollywood before meeting her latest fling, whom she's been dating for four months, according to International Business Times, which cites TMZ. Lohan has said they've been dating for longer.
The 22-year-old Tarabasov is somewhat younger than Lohan, who turns 30 in July, but that hasn't stopped either from having been struck by cupid's arrow. "I haven't known Egor for that long. We've been together for about seven months," Lohan told the Sun's Dan Wootton. "But I do have a boyfriend and he is a great guy. I met him in the summer. I'm really happy."
Read more: Lindsay Lohan Says She's Considering a Presidential Bid in 2020
Little is known about Lohan's new man, and it appears she'd like to keep it that way. "That's the one thing in America they always have done with me. If I have ever been linked to someone, they always say, 'This guy is so good for Lindsay, look at how he has changed her,'" she told Wootton.
"I am just like, 'Fuck you,' because I have done this for me. I take care of myself and then they just set it up to fail," she continued.
IBT reported Wednesday Tarabasov is currently building his own real estate business, while Lohan is continuing to focus on her health and sober lifestyle.
It seems like the two are a match made in heaven. "In the U.S., starting at 5 p.m., it's TMZ and all of these shows that are just talking about people's personal lives that are in the industry," IBT reported Lohan told the BBC in 2014. "Here, I don't notice any of that. It's more news and politics and music. ... It feels really good to be able to turn on the TV and not see everything be about gossip."