Video of Black Man Sucker-Punched Is Latest in Violent Acts at Trump Rallies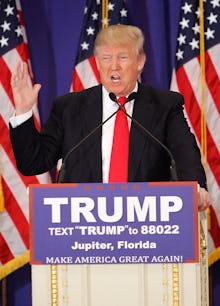 More than any other presidential candidate in the 2016 race, Republican frontrunner Donald Trump's campaign rallies have been marked by a tendency for heated encounters to devolve into violence. 
The latest — and perhaps most appalling — incident occurred Wednesday at a Trump rally in Fayetteville, North Carolina, when a Trump supporter sucker-punched a black protestor in the face.
By Thursday morning, footage of the sucker punch had already gone viral on social media. The attacker was charged with assault Thursday afternoon, Reuters reported.
The attacked man, who has been identified as Rakeem Jones, was among a group of protestors being escorted from the rally by local Cumberland County officers after, he said, nonviolent shouting erupted between their group and Trump supporters at the rally, the Washington Post reported.
The footage shows a white man wearing a ponytail and cowboy hat reach out and punch Jones from the bleachers as he was exiting the stadium. 
Jones' friend posted footage to Instagram that shows Jones being thrown to the ground by officers after he was sucker-punched and escorted as if he were being arrested. 
"Boom, he caught me," Jones told the Post in a telephone interview. "After I get it, before I could even gain my thoughts, I'm on the ground getting escorted out. Now I'm waking up this morning looking at the news and seeing me getting hit again."
Racially charged violence has a nasty habit of attending Trump rallies. In January a 56-year-old Muslim woman was kicked out of a Trump rally for no apparent reason. She told CNN she attended the rally because she wanted "Trump supporters to see what a Muslim looks like."
On Super Tuesday a black woman was removed by force while protesting at a Trump rally in Kentucky. As she was being escorted, Trump supporters shoved her back and forth. 
"It's happening at all these rallies now and they're letting it ride," Jones told the Post. "The police jumped on me like I was the one swinging. ... It's like this dude really hit me and they let him get away with it. I was basically in police custody and got hit."
March 10, 2016, 9:22 a.m. Eastern: This story has been updated.