Verizon Funded a Study Saying Don't Worry, Spying on Customers Is Chill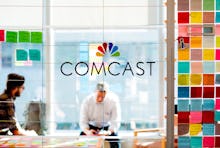 Companies like Comcast and Time Warner are so hated by the American public, you'd think anyone who supported them would have to be taking on their payroll. You wouldn't be wrong.
The FCC is thinking of reining in the internet service providers from their invasive surveillance of their own subscribers, so that AT&T and Verizon can't aggressively snoop on your browsing habits. 
But new reports say we don't need privacy regulations from ISPs — that companies like Comcast and Verizon are creative pioneers trying to bring affordable internet to the good people of the world. These studies are, of course, funded by think tanks and coalitions paid for by the ISPs.
The first report, called "Broadband Privacy: The Folly of Sector-Specific Regulation," is written by an industry-funded think tank and says privacy regulation will drive up prices and stymie innovation.
"These are precisely the goals of broadband populists pressuring the FCC to act," the report says, at one point going as to imply that privacy advocates are faking their concerns.
Another report this week, which runs 125 pages and claims not to take any sides on the issue, says encryption is everywhere, so ISPs can't really know that much about you anyway. That report was funded by Comcast, Time Warner, AT&T and Verizon. And the press is running with it.