Will Mary-Kate and Ashley Olsen Do Another Movie? 'Full House' Stars Don't Seem Keen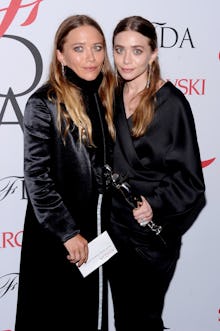 No matter how much shade Fuller House throws at Mary-Kate and Ashley Olsen, it seems unlikely that the two will reappear onscreen — in a movie or otherwise. The golden twins of the '90s declined to reprise their shared role as youngest tanner sibling, Michelle, on Netflix's Full House spinoff, which premiered in February, reportedly because the timing just wasn't right.
"Ashley said, 'I have not been in front of a camera since I was 17, and I don't feel comfortable acting,'" Fuller House Executive Producer Bob Boyett told People in early January. "Mary-Kate said, 'It would have to be me because Ash doesn't want to do it. But the timing is so bad for us.'"
Read more: 'Fuller House' Accidentally Told a Compelling Story About How Friendships Help Us to Cope
This because the Olsen twins have been hard at work helming their fashion lines: Elizabeth and James, The Row and Olsenböye. (In the Fuller House pilot, Michelle is said to be doing the same — "running her fashion empire" in New York — thus explaining her absence.) 
This non-Hollywood career keeps both Mary-Kate and Ashley busy, and while Mary-Kate has continued to act sporadically (her last film credit was 2011's Beastly), Ashley seems done with the movie business for good. 
"I don't have to be a pretty face," she said in a 2012 interview with Elle UK. "I've done that, but now it's important and liberating to be on the other side of the lens. I don't like to be the center of attention anymore."
And certainly, the Olsen twins got a big dose of fame early, launching their own production company — Dualstar, the one at the center of 2015's unpaid intern lawsuit — at age 6, when they "couldn't see over the top of the table," as Ashley told Women's Wear Daily in 2013. They made a string of straight-to-video movies and starred in their own TV shows that will, according to Variety, live on in syndication on Nickelodeon. Fans will have to content themselves with reruns.
The Olsen twins seem to have simply grown up and out of the movie business. Mary-Kate married Olivier Sarkozy, a French banker and half-brother to France's former President, Nicolas Sarkozy, in November 2015. Ashley Olsen, meanwhile, is dating Moneyball director Bennett Miller. They have real adult lives now, and those lives don't take them to Hollywood much.
"We still feel welcome in the [entertainment] industry," as Mary-Kate told WWD. "But it's not the one we're in."
It appears to be goodbye to all that for the Olsen twins — precluding, perhaps, this reported possibility of a Fuller House guest appearance.