Americans Are Becoming More Stressed Out — And Discrimination Is to Blame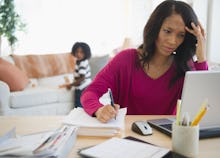 Americans are getting more and more stressed — for reasons that shouldn't even exist, to be quite honest.
Every year since 2007, the American Psychological Association has released a Stress in America survey. Among a host of other questions, it asks respondents to rate their stress levels on a scale from 1 to 10 — 1 being "little to no stress" and 10 being "a great deal of stress." 
Americans' stress levels in 2015 clocked in at 5.1 on average — an increase from 4.9 in 2014. What's more, 24% of Americans reported "extreme" stress levels, compared to just 18% in 2014.
But it gets worse. The survey also found that 61% of Americans experience "day-to-day" discrimination based on race, gender, age, sexuality or ability, and it's having a serious effect on their stress levels. 
Respondents were asked questions regarding whether they'd encountered certain major forms of discrimination, like, "Have you ever been unfairly stopped, searched, questioned, physically threatened or abused by the police?" and, "Have you ever been unfairly discouraged by a teacher or adviser from continuing your education?"
The results weren't good. Unsurprisingly, Americans who'd experienced discrimination reported higher levels of stress than those who hadn't. LGBTQ-identifying people who'd been treated unfairly rated their stress at 6.4 on average, compared to 6.0 for LGBTQ adults overall. 
People with a disability were two times more likely than able-bodied people to say their lives had been harder due to discrimination. Additionally, 26% said discrimination was a "somewhat or significant source of stress." With discrimination making it harder for women with disabilities to get screened for breast cancer, we can't say we're surprised. 
It's not just the experience of discrimination that stresses people out, but the anticipation of discrimination. Among black and Hispanic adults, 29% and 31%, respectively, "feel a need to take care with their appearance to get good service or avoid harassment," according to the report. And among American Indians and Alaska Natives, 43% "take care about what they say and how they say it, as well as to avoid certain situations, to cope with day-to-day discrimination."
Past research has linked racial discrimination to other mental health issues, including post-traumatic stress disorder, depression and anxiety.
"It's clear that discrimination is widespread and impacts many people, whether it is due to race, ethnicity, age, disability, gender or sexual orientation," Jaime Diaz-Granados, APA's executive director for education, said in a press release. 
"And when people frequently experience unfair treatment," Diaz-Granados continued, "it can contribute to increased stress and poorer health."