'The Powerpuff Girls' Reboot Finally Has a Premiere Date — You Can Freak Out Now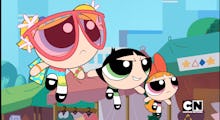 Cartoon Network had the perfect formula for an entertaining animated series in the late '90s and early 2000s: sugar, spice and everything nice. The initial Powerpuff Girls run lasted six seasons, in which Blossom, Bubbles and Buttercup tackled an array of eccentric villains in the fictional city of Townsville. The Powerpuff Girls are getting a much-needed reboot in 2016, and Cartoon Network has finally announced a premiere date for the series. Thankfully, you won't have to wait long — the first episode will debut on April 4 at 6 p.m.
According to Entertainment Weekly, the reboot will air back-to-back episodes, and then air one episode per weeknight up until April 15. Afterwards, it will assume a regular, one episode per week schedule. 
Read more: This 'Powerpuff Girls' Clip Shows That the Girls Are Back and Still Feminist as Ever
Moreover, Cartoon Network has teased a few clips for the reboot, which features Bubbles freaking out over her love of animals (and casually lifting a building) and Buttercup taking out an evil, meninist lumberjack who calls her a "princess." Unsurprisingly, she kicks his butt.