'Unbreakable Kimmy Schmidt' Season 2 Premiere Date, Cast, Plot and What We Know So Far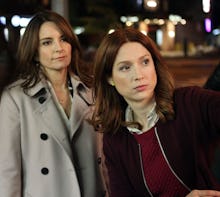 "Females are strong as hell" — Get ready for that earworm theme song to be stuck in your head indefinitely after the second season of the Netflix original comedy Unbreakable Kimmy Schmidt arrives on April 15. The first season of the off-beat show saw the titular heroine, Kimmy Schmidt, played by Ellie Kemper, finally free from the basement where she had been kept captive for years by a cult leader, played by Jon Hamm. 
Kimmy winds up in New York where she lives out the sitcom tropes of the wacky roommate and the impossible boss — all made even sharper, of course, by the thematically dark themes underneath the chaos. So what will season two have in store?
Read: Let's Talk About the Hotness Double Standard on Netflix's 'Love,' Shall We?
In a 2015 interview with Entertainment Weekly, Robert Carlock, who co-created the show alongside comedian Tina Fey, discussed what was in store for season two, including more backstory for the character of Titus Andromedon, played by Titus Burgess, saying "Titus has stuff to deal with, he's running away from his own past. I think we all are."
Carlock also hinted that the next season would bring changes for Kimmy's wealthy employer Jacqueline Voorhees, played by Jane Krakowski, saying, "One really interesting thing will be figuring out the next chapter in Jacqueline's life. She's someone who seemed to have everything, and is now in a place where she has to figure out what she actually wants and how she's going to get it."
But fans of the show can rest assured that there won't be any huge changes come season two. "I think in keeping with Orange Is the New Black, there'll be a lot more shower sex," Carlock said. "But I don't think it's going to change that much.