25 Best 'Gilmore Girls' Episodes To Watch Before Netflix's 'Seasons' Reboot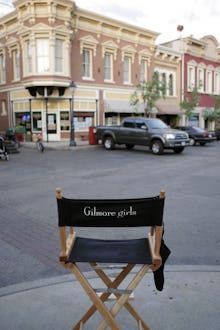 Gilmore Girls fans: are you ready to return to the "little corner of the world" known as Stars Hollow?
Netflix is reviving the beloved series nine years after the show ended its seven-season broadcast run – first on the WB and then on the CW. Still currently in production, Gilmore Girls: Seasons will consist of four 90-minute episodes, with each episode corresponding to one of the seasons.
However, watching the entire series to prepare is quite the imposition; in case you don't have the time to binge through all 153, here are the 25 quintessential episodes of Gilmore Girls you should re-familiarize yourself with before delving into Netflix's Seasons reboot.
Read more: The 'Gilmore Girls' Reunion Reminded Us Why It's One of the Most Beloved Shows Ever
1. "Pilot" (1.01)
This one's purely for expositional purposes, perhaps. The pilot establishes many of the focal dynamics between the central characters: single mother Lorelai Gilmore (Lauren Graham) and her BFF relationship with the daughter she had at 16, Rory (Alexis Bledel); Lorelai's strained relationship with her parents, Richard (the late Edward Herrmann) and Emily (Kelly Bishop); as well as Rory's forging relationship with her grandparents. 
In the episode, Lorelai pays a visit to her wealthy but estranged parents for financial assistance when Rory gets accepted to the prestigious Chilton Preparatory School, but her attendance is contingent on an exorbitant tuition. Richard and Emily agree to fund Rory's education, but only under the condition that Lorelai brings Rory to their house on a weekly basis for Friday night dinner – the first one of which goes awry once old family resentments resurface.
Emily and Richard's prim and proper residence in Hartford, Connecticut, plays foil to the quirky charm of Stars Hollow, the small town where Lorelai and Rory reside. Other notable residents include diner owner and coffee provider, Luke Danes (Scott Patterson), Lorelai's co-worker and best friend, Sookie St. James (Melissa McCarthy), and Rory's best friend, Lane Kim (Keiko Agena). 
2. "Rory's Dance" (1.09)
Rory attends her first school function with her boyfriend, Dean Forester (Jared Padalecki) only to get antagonized by her classmates, Paris Gellar (Liza Weil) and Tristin Dugray (Chad Michael Murray). 
Meanwhile, Lorelai is nursing a back injury at home that she incurred while making Rory's dress for the dance. After Emily comes over to Lorelai's house to take a photo of Rory and Dean, Emily insists on staying to help Lorelai around the house, much to Lorelai's chagrin. Though their subsequent evening together turns out pleasant, predominantly filled with watching television, things turn tense the following morning when they both awake to realize that Rory never made it back home.
3. "Forgiveness and Stuff" (1.10)
Emily and Lorelai continue to squabble after their fallout from Rory's dance. When Lorelai isn't able to arrive to Emily and Richard's Christmas dinner on time, Emily un-invites her and asks her to only send Rory. A bored, lonely and hungry Lorelai then goes to Luke's diner, where she served a festive "Santa burger." In Hartford, Rory eats dinner with Emily, Richard and their friends until Richard collapses mid-meal and has to be rushed to the hospital.
4. "Red Light On The Wedding Night" (2.03)
During her bachelorette party, Lorelai calls Rory's father, Christopher Hayden (David Sutcliffe) to discuss her imminent marriage to Max Medina (Scott Cohen), who also happens to Rory's English teacher at Chilton. Lorelai and Christopher's phone conversation causes her to have cold feet. After realizing she doesn't want to go forward with the wedding, Lorelai and Rory take an impromptu road trip in order to dodge the resultant chatter and sympathies around town.
5. "Lorelai's Graduation Day" (2.21)
After taking night classes at a Hartford community college, Lorelai earns an associate's degree in business, but has no plans to attend her graduation ceremony. After Rory persuades Lorelai to change her mind, Rory secretly extends an invitation to Emily and Richard, whom Lorelai didn't invite under the assumption that they wouldn't want to attend.
On the day of Lorelai's graduation, Rory plays hooky from school and impulsively takes a bus to New York to visit Luke's nephew, Jess Mariano (Milo Ventimiglia), who had been ostracized from Stars Hollow after both he and Rory were involved in a car accident.
6. "I Can't Get Started" (2.22)
Christopher comes to town to visit Rory, whose arm has healed since the car accident and can therefore have her cast removed. Since Christopher is in town, he is invited to Sookie and Jackson's (Jackson Douglas) rehearsal dinner and wedding.
During Christopher's extended stay, Lorelai and Christopher begin repairing their relationship, which soured when his previous visit resulted in a heated argument. On the day of Sookie's wedding, after Lorelai and Christopher decide to give it another go, Christopher receives a phone call from his ex-girlfriend, Sherry (Mädchen Amick), telling him she's pregnant. Elsewhere, Jess also makes a surprise return to Stars Hollow, intercepting Rory on her way to Sookie's wedding.
7. "Haunted Leg" (3.02)
After revealing to her parents that she had to break it off with Christopher, Lorelai continues to contend with Emily's meddling and attempting to convince Lorelai to reconsider her decision. Elsewhere, Rory contends with her own pangs of jealously, seeing Jess around town with another girl.
8. "They Shoot Gilmores, Don't They?" (3.07)
Lorelai coerces Rory into participating in Star Hollow's 24-hour dance marathon, having lost the competition previously due to subpar partners. In the middle of the competition, Jess walks into the venue with his girlfriend, and effectively drives a wedge between Rory and Dean, who is spectating from the bleachers.
9. "Dear Emily and Richard" (3.13)
When Sherry goes into labor early while Christopher is out of town, Rory is forced to tend to her at the hospital. When Sherry's contractions worsen, Rory gets desperate and calls Lorelai for help. Throughout the episode, Lorelai has flashbacks of when she and Christopher were younger, including how their parents found out about Lorelai's pregnancy, as well as the birth of Rory.
10. "Those Are Strings, Pinocchio" (3.22)
Rory graduates from Chilton as valedictorian, but learns that Lorelai is using money saved for the inn she's planning to open with Sookie as a downpayment on Rory's tuition at Yale University. Rory eventually brokers a deal with Richard and Emily not unlike the one Lorelai did for Rory's tuition at Chilton: having her education funded in exchange for weekly Friday night dinners with her grandparents.
#11. "The Incredible Shrinking Lorelais" (4.14)
Rory begins struggling academically at Yale due to her rigorous and overloaded schedule. Lorelai begins struggling financially due to the money pit that is renovating the Dragonfly Inn. To make matters worse, they keep missing the other's phone calls and cries for help.
#12. "The Reigning Lorelai" (4.16)
Richard's mother, the original Lorelai (Marion Ross) whom he affectionately refers to as "Trix," passes away. In the midst of going through Trix's personal effects and planning the funeral, Emily finds a letter from Trix written to Richard, dissuading him from marrying Emily.
13. "Last Week Fights, This Week Tights" (4.21)
Liz (Kathleen Wilhoite), Luke's sister and Jess' mom, gets married to T.J. (Michael DeLuise) in a medieval-themed wedding in Stars Hollow. Luke asks Lorelai to accompany him, which she initially interprets as platonic until they "have a moment" during Liz and T.J.'s first dance.
14. "Raincoats and Recipes" (4.22)
In anticipation for the Dragonfly Inn's opening day, Lorelai and Sookie have a dry run by inviting all the townspeople to stay as guests. Rory and Dean develop feelings for each other again despite the fact that he is still married to Lindsay (Arielle Kebbel). Luke tries to talk to Lorelai about the status of their relationship, but is complicated with the appearance of Jason (Chris Eigeman). Richard and Emily reveal that they have been having marital problems, even though Lorelai and Rory have known about their separation for quite some time.
15. "Written in the Stars" (5.03)
Luke and Lorelai have their first official date as a couple. Lorelai's hope of taking their relationship slow and keeping it low-key are ruined when, after spending the night as his place, she attempts to get a cup of coffee downstairs wearing only Luke's flannel shirt, not realizing the diner was open for business.
Elsewhere, Paris plans a wake for her boyfriend, Asher Fleming (Michael York), a professor at Yale who passes away just before the start of the new semester. Rory also meets Logan (Matt Czuchry), a rich legacy student at Yale that her friend, Marty (Wayne Wilcox) once bartended for, and whom she bumps into while posting flyers around campus to promote Asher's wake.
16. "You Jump, I Jump, Jack" (5.07)
After discovering that Logan is a part of the "Life and Death Brigade," Rory convinces him to bring her along on one of their group outings so she could report on the secret society for the Yale Daily News. Elsewhere, Emily invites Luke over for dinner after finding out he and Lorelai are dating. Left out of the dinner, Richard instead invites Luke out to play golf. Finally, Lane starts to date her bandmate, Zack (Todd Lowe).
17. "Wedding Bell Blues" (5.13)
In the show's 100th episode, Emily and Richard celebrate their reconciliation by renewing their vows, with Lorelai as her maid of honor, and Rory as his "best man." Rory and Logan take their relationship to the next step, even though he tells her that he's not a monogamous man. Luke and Christopher clash after they and Lorelai catch Rory and Logan in the midst of a make out session. 
18. "Say Something" (5.14)
To convince him of her commitment to their relationship after he leaves her parents' wedding ceremony alone, Lorelai attempts to track Luke down. Rory plans to hang out with Logan, but is surprised when his invitation to come over turns out to be a poker night with other people.
19. "A House Is Not a Home" (5.22)
Lorelai picks Rory up from the police station after she and Logan are arrested for stealing a boat. After Rory reveals that she won't be returning to Yale, Lorelai tries to get Richard and Emily to help her convince Rory that dropping out would be a bad decision. Lorelai's intervention for Rory backfires after Richard and Emily tell her they support Rory's decision.
20. "Friday Night's Alright for Fighting" (6.13)
Lorelai struggles to deal with her engagement to Luke and how it is affected when his daughter, April (Vanessa Marano), who he previously didn't know existed, enters the picture. Elsewhere, when Lorelai reveals to Emily and Richard that their money isn't needed anymore to fund to Rory's education, the four Gilmores hash out everything, past and present, at Friday night dinner.
21. "I Get a Sidekick Out of You" (6.19)
Lane and Zack get married, having both a traditional Buddhist wedding to appease Lane's grandmother, as well as a Seventh Day Adventist wedding, to appease her mom, Mrs. Kim (Emily Kuroda).
22. "Super Cool Party People" (6.20)
Lorelai tries to help Luke plan a birthday party for April, but Luke still doesn't feel comfortable with Lorelai's involvement yet. Elsewhere, Rory rushes to the hospital after finding out Logan was injured during a Life and Death Brigade event.
23. "Driving Miss Gilmore" (6.21)
Emily gets botched Lasik surgery and needs Lorelai to chauffeur her around town to run errands. When they arrive at their final stop, a real estate agency near Stars Hollow, Emily reveals that she wants to buy a house for Lorelai and Luke as a wedding gift.
24. "Partings" (6.22)
Logan graduates from Yale, but has to move to London to work at his father's company. Before the night of his departure, Rory throws Logan a London-themed party. Elsewhere, Lorelai becomes fed up with the continued delay of the wedding, and gives Luke an ultimatum.
25. "Bon Voyage" (7.22)
Finally, the original series finale should be revisited, but perhaps just for the sake of continuity. The much maligned seventh season – the first season without original creators Amy Sherman-Palladino and Dan Palladino – was depleted of all the charm that made the first six seasons so compelling. With that said, the episode still had its moments, however sentimental they may have been.
In the series finale, Rory gets hired to cover Barack Obama's presidential campaign, but has to leave town in three days. With so little time, Stars Hollow scrambles to give Rory an appropriate sendoff – the majority of which is spearheaded by Luke.