Sam Smith's Approach to Fitness and Weight Loss? Pictures of Hot Guys on Instagram, Duh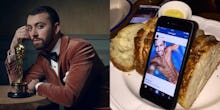 Some people use fitness blogs and Instagram in order to get their daily inspiration to stay on their health kicks. Academy Award winner Sam Smith's inspiration takes him a step further, quite literally halting the musician in his tracks from eating unhealthy. Thanks (at least in part) to Instagram and its plethora of hot torsos and male models, Smith is avoiding extra carbs by ingeniously placing Instagram pics of hot men on top of bread. 
No, we're not making this up: Smith might have discovered the best way to lose weight — and if this is what he's been doing recently to slim down, it's certainly working. Smith uploaded a photo to Instagram of a plate of bread with a phone on top of it, sharing a picture on the social media service of a glowing, tan-skinned hunk atop a floating raft. "The only way I'm not gonna munch up that bread..." Smith wrote, tagging the man in the Instagram picture. 
Read more: Sam Smith Weight Loss: Before and After Photos and What Singer Says About Transformation
Admittedly, placing hot men on carbs isn't the only action Smith has taken toward losing weight, telling CNN during the Academy Awards red carpet ceremony, "I've just stopped eating like a horse ... I just stopped eating as much basically and just like being sensible and working out." 
Smith has also been sharing a number of selfies from the gym — as well as the studio, where he's likely putting work in for a forthcoming album. While Smith has always been adorable — not to mention gifted with an incredible voice — the singer's new healthy lifestyle has Smith looking more handsome than ever. 
In fact, one might even argue he's "Instahot."