'Star Wars: Episode VIII': Here's What We Know So Far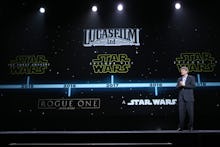 Jesse Grant/Getty Images
Written and directed by Looper's Rian Johnson, Star Wars: Episode VIII will have big shoes to fill. Star Wars: The Force Awakens, its predecessor, holds the record for the biggest opening weekend, making $238 million at the box office. But with executive producer J.J. Abrams, older Star Wars actors Mark Hamill and Carrie Fisher, and newer stars to the franchise Lupita Nyong'o, Adam Driver, John Boyega and Daisy Ridley returning, the future of the film looks bright. 
Rian Johnson, who made a name for himself at the 2005 Sundance Film Festival for his directorial debut film Brick, appears to be enjoying the process. 
Read more: JJ Abrams Wants 'Star Wars' to Have Gay Characters
"I'm just starting into it, but so far it's been nothing but...honestly, it's the most fun I've ever had writing. It's just joyous," Johnson said in a interview on the TalkHouse podcast while writing the script to the new Star Wars film, according to the International Business Times. "The first movies I was making in my head were part of this world, so part of it is a direct connection — it's almost like an automatic jacking-in into childhood in a weird way."
J.J. Abrams has faith that fans will enjoy Johnson's script. "When Rian who I admire enormously and adore, came on board, we met and talked with him about all the things we were working on and playing with, and he as a spectacular writer and director has taken those things and has written an amazing script that I think will be an incredible next chapter, some of which incorporating things we were thinking of and other things are things we could never of dreamed of,"  Abrams told Slash Film. 
Hamill, who played Luke Skywalker in the original Star Wars trilogy and The Force Awakens, told the Sun that Skywalker's sexuality is up to the his fans. "Fans are writing and ask all these questions, 'I'm bullied in school ... I'm afraid to come out,'" Hamill said. "They say to me, 'Could Luke be gay?' I'd say it is meant to be interpreted by the viewer. If you think Luke is gay, of course he is. You should not be ashamed of it. Judge Luke by his character, not by who he loves."
Although we still don't know the official title for Episode VIII, we do know that Benicio Del Toro will be making an appearance in the film as a cast member. Although his specific role is still under wraps, the Oscar-winning actor is staying mum. "It's nice to keep people in the dark, a little bit of mystery is good," Del Toro told Entertainment Tonight. "If they want to believe it's the villain, then good."
Production may reportedly move to a location in Ireland in May, reports state. The new film is set to hit theaters Dec. 17, 2017, according to the official Star Wars website.