Will Daisy Ridley of 'Star Wars' Become the Next Lara Croft of 'Tomb Raider'?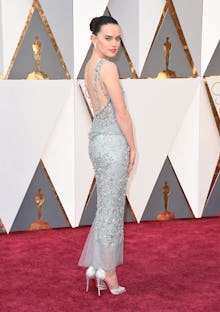 After hitting it out of the ballpark with her big screen debut in Star Wars: The Force Awakens, English actress Daisy Ridley might be joining another film legacy: Tomb Raider, according to Deadline. Ridley is one of the few actresses being considered to play Lara Croft in the action movie reboot, which Warner Bros., MGM and GK Films are partnering on.
Director Roar Uthaug said he's "always been a fan of strong female characters," according to Entertainment Weekly. Good thing Ridley already has that track record from her last role as Rey. 
It's still early in the decision-making process, so no official offers or negotiations have been made, Deadline reported. Although the third installment has been in development since around 2009, it wasn't until the 2013 reboot of the video games themselves that catalyzed the movie's own production, according to Entertainment Weekly.  
Read more: Daisy Ridley Is Recording Music With "Massive Superstar," According to J.J. Abrams
The original Lara Croft: Tomb Raider came out in 2001, starring Angelina Jolie as the artifact-collecting and butt-kicking protagonist.