Get Your First Look at the New Spider-Man in the Latest 'Civil War' Trailer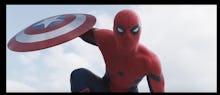 Marvel released a second trailer for its upcoming film Captain America: Civil War, which — as the name suggests — pits the heroes of the Marvel Cinematic Universe against one another over the issue of whether or not their powers should be monitored by the government. The titular Captain America (Chris Evans) and Iron Man (Robert Downey Jr.) are at the forefront of the conflict. 
Civil War is expected to have a wide-ranging cast of heroes on both sides of the fight, including the first appearance of Black Panther (Chadwick Boseman) and Spider-Man (Tom Holland). While Black Panther has been seen in previous teasers and trailers for the upcoming movie, the new Spider-Man has been kept in the dark. Well, until now. 
Read more: The 'Captain America: Civil War' Trailer Is Here and It's Awesome — Video
It's a brief appearance, but a notable one: Spider-Man takes Captain America's trusty shield at the end of the trailer — suggesting he's on team Iron Man for the movie's narrative. This is the third iteration of Spider-Man in less than two decades, with Tobey Maguire and Andrew Garfield both playing the titular hero in their respective movie series. 
Check out the newest trailer for Civil War — hitting theaters on May 6 — below. However, if you're just looking for Spider-Man, his appearance is here.