Who Is Pete Fox? Meet the Man Behind Kanye West's Motocross-Inspired Yeezy Apparel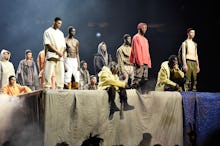 Kanye West is a busy guy, with his new album The Life of Pablo, his Yeezy fashion brand and managing his controversial and feisty Twitter. So he enlisted the help of Fox Racing co-founder Pete Fox as Yeezy's president, according to Fox's LinkedIn profile, High Snobiety reported. Fox Racing is a California-based motocross apparel brand, according to its website. 
Fox's profile lists him as being president of Yeezy since February 2016, having stepped down as Fox Racing's CEO in 2014 after five years. He was Fox Racing's president for eight years before that.
Read more: Kanye West Declares the Fashion World is "Sooooooo Fake" In Latest Twitter Rant
Yeezy Season 3 debuted to a star-studded Madison Square Garden in New York City earlier this month. The new collection was comprised of biker pants and gloves that were made in a collaboration with Fox Racing, according to High Snobiety. 
The Instagram handle @thepetefox showcases Yeezy products, while @foxpetefox showcases Fox Racing products. 
In collaboration with Adidas, Yeezy Season 1 hit stores in October after its debut at 2015 New York Fashion Week. The line was a combination of high fashion meets urban streetwear, featuring torn sweaters and fur-laced garb.