This Throwback Photo of Taylor Swift Has Twitter All Nostalgic and Emotional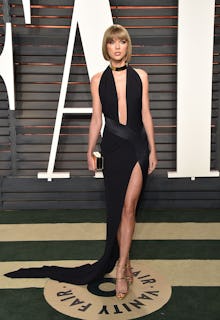 Country singer turned mega pop star Taylor Swift has enjoyed a meteoric rise to fame in recent years, and it's the kind of success that shows no sign of slowing. For someone who has made such huge strides — all by the age of 26 — it's often hard to imagine the star before she was the untouchable glamour icon she is today. That's where Big Machine Records comes in. On Thursday, the record label tweeted a throwback picture of the artist, which shows a young Swift mailing her first single to radio stations from the record label's office.
"#TBT to @taylorswift13 mailing out her first single to radio from our office," reads the post's caption. "Can't believe this was TEN years ago!"
Read more: Taylor Swift Just Gave Kesha $250,000 Amid Ongoing Legal Fight
Users on Twitter reacting to the image were both nostalgic and emotional.
Clearly, the singer has come a long way in a decade. During this year's Grammy Awards, for instance, her fifth studio album, 1989, won the awards for album of the year and best pop vocal album, and the music video for her track "Bad Blood" was named best music video.
In accepting those accolades at the 58th annual awards show in February, Swift actually commented on her trajectory to success. 
"As the first woman to win album of the year at the Grammys twice, I want to say to the young women out there, there are going to be people along the way who try to undercut your success or take credit for your accomplishments or your fame," Swift said before a packed audience and on live television. 
"But if you just focus on the work and you don't let those people sidetrack you, someday when you get where you're going, you will look around and you will know it was you and the people who love you who put you there, and that will be the greatest feeling in the world."