This Website Is Hawking a "Fat Lady" Dress — And It's Not Some Sick Joke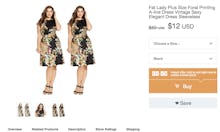 Something immediately upsetting happens when you search through shopping platform Wish's catalogue of plus-size clothing — again and again, dresses and skirts and jumpsuits pop up with the phrase "fat lady" in the product name.
Read: This Woman's Selfie Reminds Us What Fat-Shaming Really Does
That's right, if you're a plus-size shopper, Wish thinks you might want to purchase a "Women Fashion Fat Lady Printing Slim A-line Dress Plus Size Turn-down Collar," or a "Fat Lady Knee Length Elegant Floral Dress Sleeveless Slim Fit Plus Size."
The "fat lady" label isn't even limited to a few items; A search for the term on Wish's desktop site turned up dozens of results.
The platform offers cheap prices on clothing and accessories by connecting consumers directly with "Chinese manufacturers," according to the 2015 Recode interview with Wish CEO Peter Szulczewski, so maybe translation errors are to blame for the repeated use of the phrase "fat lady."
However, the company claims "50 or so employees" and is headquartered in San Francisco, which means someone should have caught such a massive oversight. 
The company's repeated use of the term hasn't gone completely unnoticed. Some shoppers have taken to Twitter to call out Wish directly.
The word fat has a complicated history, riddled with shame and harassment, with some equating it to a slur. There are certainly those in the body positivity movement who are working to reclaim it and turn fat from a body-shaming slur into an empowering identity. Websites like Tiffany Tucker's  Fat Shopaholic and Amye Archer's Fat Girl Blog have worked to reframe the narrative surrounding the word fat. Plus-size model Tess Holliday, who identifies as a fat femme, announced "I love the word 'fat,'" during a panel back in January.
But reclaiming the word fat has to come from the people who choose to use it as part of their identities. When it comes from a company where the phrase "fat lady" is slapped into the clunky product names for plus-size items, the word still carries its harmful history.
Wish has no phone number listed on its website, and did not immediately respond to a request for comment via email.