7 Planned Parenthood Services You Didn't Know Were Available — That Aren't Abortions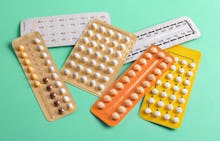 Planned Parenthood is under attack, by everyone from right-wing politicians to sign-wielding picketers camped outside its clinics. It was even the target of a deadly Nov. 27 shooting.
Critics' main concern is that Planned Parenthood provides access to abortions. Fueled in recent months by now-debunked video footage suggesting Planned Parenthood sells fetal body parts for profit, detractors are working at length to restrict women's ability to safely terminate their pregnancies — be it at Planned Parenthood or other women's health clinics. 
But their vitriol is unwarranted. Let's talk about abortions for a second: Abortions have been a legal right for U.S. women since the Supreme Court's 1973 Roe v. Wade decision, and they're now a human right, too, thanks to a recent United Nations ruling. Women get abortions for a number of reasons, like protecting their own health or cutting ties with abusive past partners. Without access to safe, professional abortions, the terrifying reality is that women may opt to perform their abortions themselves, which can be deadly. Bottom line: Women — not conservative politicians — should get to decide what happens to their own bodies.
Critics who spitefully call Planned Parenthood an "abortion chain" are missing another point: Planned Parenthood provides a bevy of important health care services — and not just for women. In fact, only 3% of all Planned Parenthood health services are abortion services, according to the organization's website. Mic talked to everyday Americans about all the services — in addition to abortions — for which they turn to Planned Parenthood.
1. Sexual Health Education 
"The No. 1 thing I love about [Planned Parenthood] is their educational services," Ashley Sinha, 23, told Mic. "There is a ton of misinformation surrounding women's health, and it's comforting to turn to in times of medical crisis."
Sinha first turned to Planned Parenthood for information about contraception. She used their online charts comparing the success rates of different forms of birth control and talked to Planned Parenthood staff members both online and in person. 
"I had no idea that the shot or the implant was an option," Sinha said.
Samantha*, 24, never felt like she could talk to her parents about sex — so as a teenager, she turned to Planned Parenthood for the information she needed. 
"The women there were nothing but kind and helpful in giving advice on contraception, providing STI tests and answering my questions about sexual health," she told Mic. "In retrospect, I'm so glad I started going to PP because they're the reason my view of sex was a positive and healthy one from the beginning."
2. STI Testing
Planned Parenthood provides more than 4.2 million tests and treatments for STIs each year, according to its website. That includes more than 650,000 HIV tests.
Danielle*, 25, used Planned Parenthood to get tested for STIs and HIV after a guy she met at a bar drugged her and had non-consensual, unprotected sex with her two years ago. Though jarred, at first, by the clinic's tight security measures, she was comforted by the support she received throughout the duration of her testing; a nurse even kept her company for the entire 20 minutes it took to process her HIV test.
When the test came back negative, Danielle broke down with relief. "The nurse stayed with me and listened to me cry out three months of shame and self-loathing and anger," she told Mic. "It didn't bother her at all — I got the sense she'd been that person for many other people before me." 
That nurse was the first person to tell Danielle that what happened to her wasn't her fault.
"I still haven't processed it in earnest, and haven't quite gotten around to believing that it wasn't my fault, but I honestly don't know where I'd be if she hadn't said that," Danielle said. "I will always be grateful to her."
3. Birth Control
Eighty percent of Planned Parenthood's patients receive services to prevent unintended pregnancy, according to its website.
That includes connecting patients with different forms of birth control, such as condoms, birth control pills and IUDs.
College student Olivia, 21, who asked that her last name not be used, wanted an IUD put in. When she tried to make an appointment through her college's health center, she found it would take more than two weeks — and even then, she'd still have to be referred to an OBGYN.
"I made an appointment with Planned Parenthood online for a date later the same week," she told Mic. "Showed up, and day of, had my IUD inserted. The nurses and doctors were so kind and I am really happy with how everything turned out."
4. Women's Cancer Screenings
Planned Parenthood performs 270,000 pap tests and 360,000 breast exams every year, which are crucial for detecting breast and cervical cancers, according to its website. They also offer pelvic exams, which can detect other types of cancer.
When Shannon*, 44, was a 23-year-old college student, she turned to Planned Parenthood for birth control pills and pap smears. There was "no judgment," she told Mic, "unlike the medical practitioner at the university I attended at the time, who essentially tsk tsk'd my 'promiscuity.'"
5. Men's Cancer Screenings
Yes, dudes, Planned Parenthood is for you too. Male patients can get screened for colon, prostate and testicular cancer.
Cancer screenings aren't the only male-specific health services Planned Parenthood offers. It also provides routine physical exams, male infertility screening and referrals, testing and treatment for urinary tract infections, treatment for erectile dysfunction and vasectomies — among other things.
6. Hormone Therapy for Transgender Patients
Planned Parenthood offers its healthcare services to patients of all gender identities. But for transgender patients, it even offers hormone treatments.
Hormone treatments aren't available at every Planned Parenthood location, but you can check out its website for a list of which clinics have them.
7. Affordable Health Care
Planned Parenthood receives Title X funding from the U.S. government, which means it can offer various health care services at discounted rates. Abortions aren't covered, but Title X funding does apply to services such as birth control and gynecological exams.
The reduced cost of birth control "saved my ass when I was broke af!" said one user.
"I ... appreciated that I had to pay very little or nothing since I was a student," Samantha told Mic. 
A number of Twitter users cited affordability as a major reason they turned to Planned Parenthood. The reduced cost of birth control, one user said, "saved my ass when I was broke af!"
*Names have been changed to let sources speak freely on sensitive issues.