These Are the Colors that Hairstylists Really, Really Don't Want You to Ask For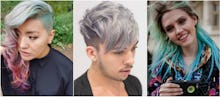 With the rise of viral hair trends with names to match your wardrobe — opal, pastels, even denim — your hair color options are no longer limited to highlights versus lowlights, but encompass every color of the rainbow and beyond. 
While these colors are indeed fast-growing trends garnering thousands of "likes" and shares, your hairstylist may not share the same enthusiasm.
Read more: New #DenimHair Trend Robs Us of the Lazy Beauty of Real Jeans
To learn more we quizzed Heather Neiser, stylist at Hair Metal Salon in Williamsburg – one of New York City's go-to stylists for alternative locks — to find out which trendy looks are far more difficult than Instagram would have you believe.
Silver 
"This is one of the biggest hair trends," Neiser told Mic. "However, you can't get silver tones on hair that isn't nearly white." Unless you were born with pearly white hair, silver tones require unavoidable bleaching, a top-notch and patient stylist.
Going gray is easier with "virgin hair" (aka hair that hasn't previously been colored), however Neiser says that most clients who request silver are usually those who love to experiment, thus complicating the process.
"One of the biggest challenges is when someone asks for one of these silvery tones and you explain to them that you will have to go through an awkward phase of some warmer tones in your hair you may not want," Neiser said. While customers may sign off on the plan, their attitude can change when they look in the mirror and it's not (yet) the Bride of Frankenstein silver locks they saw on Instagram. "When they actually see it [they] don't like it and complain. Sometimes there's no instant gratification."
Pastels
Once upon a time (think Katy Perry, 2010), bright Smurf hair reigned supreme. However, those bright locks have given way to lighter-colored locks. "Right now, people pretty much want pastels more than the bright stuff," Neiser told Mic. 
While these trends might look cute AF on IG, it can be an ultra-annoying request for the stylist. It's not disdain for the look itself, but the unrealistic expectations embedded in the request. 
Along with the same bleached canvas required for silver hair, pastels require a lot of touch-ups. Even after you sit through the first few initial sittings, expect to be a return visitor. "It takes a lot of time and a lot of money... because it's a lot of work," Neiser said.  
She suggests that clients with silver or pastel come back every six to eight weeks for upkeep. Some, like xoJane writer Alyssa H., advise mixing at-home color such as Manic Panic into your conditioner for at-home upkeep of pastels.
Opal
The opal hair trend requires a pearly white base, which pastel colors are then hand-painted over. "You paint the different pastels on the white hair in different spots and it creates an opal effect," Neiser told Mic. 
Opal is particularly hard to maintain because the toner used will wash out with each shampoo, thus requiring frequent touch-ups. However, since the hair is not a solid color, it's increasingly hard to match the color exactly from visit to visit with a washed out template. 
There is one request that is surprisingly headache free.
All-over bright color
As it turns out, going bold is easier on your locks than some of the softer pastel trends. "As more vibrant colors are not as sheer, you don't have to get the hair as light," Neiser said. "Depending on what the client wants, it's not as difficult." 
Since the bright colors are less sheer than pastel, they may not require as much bleaching, and while you should expect fading, they are likely to last longer as well. 
If you have the patience and are down with the time and money you need to commit to unleash your inner rainbow or silver fox, go for it, just understand that you are signing up for a long-term relationship with your stylist — one they might not be as keen on as you are.