Paris Gunfire Has Two Men on the Run in Bastille District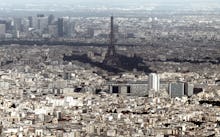 Two gunmen are at large in Paris after shots were fired outside restaurant Chez Papa, located in the neighborhood of Bastille, the Independent reports, citing French news sources. At least one victim is believed to have been wounded in the shooting and one suspect has reportedly been captured, according to the Independent. Though a cause for the shooting was not immediately clear, images and comments shared to Twitter appeared to confirm Thursday's shooting.
"Shots near Bastille happened next to 'Chez Papa,'" one user tweeted in French. "Many police cars on the scene."
A video posted by the same user shows the scene of the shooting from a distance as while authorities carried out an investigation. "The police investigation is located in the park across from Chez Papa," reads the video's caption. "PJ [Police Judiciaire] on site."
Reports of gunfire in France's capital city invariably conjured mentions of possible terrorist activity in the media because the country continuing to heal from the deadly terror attacks that shook Paris on Nov. 13, 2015. According to the Telegraph, authorities had yet to announce a motive for the shooting, though believed the incident was likely crime related, not an act of terror. One tweet that was written in Spanish suggests the victim was shot in the abdomen, though that has yet to be confirmed.
March 10, 2015, 3:03 p.m. Eastern: This story has been updated.