Trump Campaign Victim-Blames Reporter After Alleged Manhandling by Campaign Manager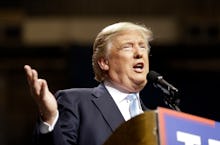 Republican frontrunner Donald Trump's campaign staff is denying allegations that Manager Corey Lewandowski manhandled a reporter, the latest controversy to roil the turbulent GOP race.
The alleged incident occurred on Tuesday in Jupiter, Florida, after Trump gave a primary-night press conference.
As Trump's entourage sought to clear a path for him to leave the event venue, Michelle Fields, a reporter with conservative website Breitbart, moved forward to question the candidate. Then, she said, Lewandowski forcibly grabbed her arm and yanked her, nearly knocking her to the ground.
Read more: Donald Trump Cleans Up in Michigan and Mississippi, While Ted Cruz Takes Idaho
"I'm just a little spooked," Fields told the Washington Post. "No one has grabbed me like that before."
The response: Trump's campaign forcefully rejects Fields' version of events. 
In a statement Thursday, campaign spokeswoman Hope Hicks called the allegation "entirely false," saying that she "did not witness any encounter" in the ballroom where the alleged altercation occurred. What's more, Hicks said, Fields hadn't even met Lewandowski.
Seeking to undercut Fields' credibility, Hicks suggested that Fields' accusation fit "a larger pattern of exaggerating incidents."
"Recall that she also claimed to have been beaten by a New York City police officer with a baton," Hicks said, referring to an alleged 2011 incident during the Occupy Wall Street protests.
Fields shows no sign of backing down. In a tweet issued after Hicks' statement, she shared a photo of bruises sustained on Tuesday:
Escalating the war of words, Lewandowski tweeted Thursday afternoon that fields is an "attention seeker" with a history of making allegations against public figures:
In light of Fields' accusations, many have taken to social media to call for Lewandowski's firing. A New Hampshire-based political operative who once directed the state chapter of the Koch-backed Americans for Prosperity, Lewandowski was widely credited with engineering Trump's victory on the Granite State primary — a victory that helped the billionaire bounce back from a surprise defeat in the Iowa caucuses and helped set him on his path to the GOP nod.