Are the Original Beach Boys Still Playing Together? Where Are They Now?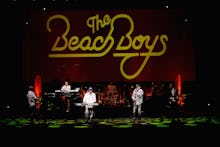 Quintessential sunny 20th century California was perfectly captured by the lush harmony of the Beach Boys, which was first comprised of teenage brothers Brian, Carl and Dennis Wilson, their cousin Mike Love and friend Al Jardine in 1961. Originally, the band went by The Pendletons, releasing their first hit "Surfin'" in 1961 with Candix Records. Since then, the band has become a musical legacy, pumping out 22 hit singles in the Top 40 between 1962 and 1966.
As of March 2016, Love, Brian Wilson and Jardine are the only original founding members left. Even then, the band is fractured, still making music in separate bands but sometimes touring together. Legally, Love is the owner of the Beach Boys name and continues to perform as such, according to Rolling Stone. 
Read more: Watch 27 Legendary Musicians Perform the Beach Boys Together
Dennis Wilson drowned in 1983 at age 39 while swimming from a yacht in Marina del Rey, California. In 1998, Carl Wilson died at the age of 51 from lung cancer. He still sang while undergoing treatment. 
Other musicians who had briefly joined the band, especially while on tour, include Bruce Johnston, David Marks, Glen Campbell, Jeffrey Foskett, Daryl Dragon, Ricky Fataar and Blondie Chaplin, according to Rolling Stone. These replacements occurred especially during Brian Wilson's frequent hiatuses from touring due to mental illness. 
Marks replaced Jardine, who quit shortly after Carl Wilson's passing. Jardine went on to form his own band called Al Jardine's Family & Friends, which includes Brian Wilson's two daughters Carnie and Wendy. 
Brian Wilson also pursued a solo career, releasing an LP with Capitol Records called That Lucky Old Sun in 2008. He also dabbles in old Beach Boys tunes. 
In 2012, Marks, Brian Wilson, Love, Jardine, Johnston and Foskett got together to record That's Why God Made the Radio. Before that, they hadn't made an album together in 16 years.
That same year, the band — Brian Wilson, Jardine and Marks — went on a 50th anniversary reunion tour, but it was also their last together. The Beach Boys that continued on are Love, Johnston and their longtime backing band of Love's son Christian, Randell Kirsch, Tim Bonhomme, John Cowsill and Scott Totten.