Beyoncé's Super Bowl "Formation" Performance Brought Out the White Tears in These Emails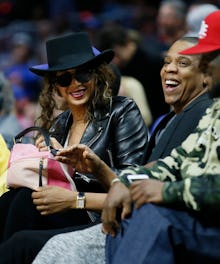 This is what it sounds like when trolls cry. 
Beyoncé's Super Bowl halftime performance was over a month ago, but its impact still reverberates around the nation and the internet. After a failed protest that couldn't muster up more than three people, the latest exhibit of Beyoncé hateration comes via SB Nation, which filed a Freedom of Information Act request to the Federal Communications Commission to get all the email complaints they received after the Queen's Super Bowl performance, which featured dancers styled like the Black Panthers.
Read more: With Two Performances, Beyoncé and Kendrick Lamar Changed Black Storytelling Forever  
Aside from a lot of griping about the commercials, some people just thought Beyoncé's performance was too black, too sexual — or both. 
One email from Michigan read:  
After that half time show i would like to know how i can get back the money i spent on the get together i had not to mention my children was watching... all that game did was promote hate on white people, law enforcement and America!!!!!!! How is that even legal to have on the air... sick and tired of how racist black people can be towards white people and now on national TV, JUST SICK OFIT!!!!!
And this, from Florida: 
I feel that it was entirely inappropriate for an All Black Lives Matter performance grandchildren to see it. It was rehearsed, you knew ahead of time that it was an extremely racist message and you still aired it. Shame on you. All this is doing is stirring up more trouble and tension. Give it a break. Provide your own armed escorts to and from the game for your so called performers. Police lives matter and they have better things todo than to babysit a spoiled diva.
One Georgia resident would've preferred if she covered up and performed "Put a Ring on It (Single Ladies)." 
Up until last night, I was a fan of Beyonce. I am complaining about her Super Bowl performance for 2reasons. The first is that I thought her attire was inappropriate for a family event (specifically the fishnet stockings and garter). Why is it that all of the women were scantily clad and the men were not? This was a horrible thing for my young daughter to see. I also oppose the message of her song/performance in that I think it will push more people to be on a witch hunt for police officers. If the main halftime performer and the 2nd one (Coldplay and Bruno Mars) performed their hits, why did Beyonce get away with not performing one of hers? Thank you.
This Mississippi viewer is *not* going to be watching next year. 
The SB half time show was a disgrace and offensive. It was vulgar, distasteful and a slap in the faceour military and law enforcement. It was not something I consider FAMILY entertainment. I am through with the Super Bowl and it's over paid, over hyped agenda. You can have it.
Another Florida woman kept it short and sweet. 
Beyonce's performance was disrespectful and inciting violence against whites and police.
And finally, another Florida person who says they are part of an undisclosed "group" thought Beyoncé's "hand jesters" were very inappropriate. 
Beyonce was making racist hand jesters during her performance during the super bowl half timeshow. Our group will be keeping track of this complant.
More power to you, email people, for speaking your minds. As for the #BeyHive, you can read all of the emails and remember that this performance was straight fire.