Researchers Have Created a Shapeshifting Material Inspired by Origami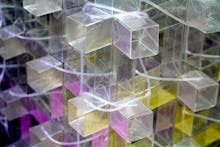 A new material inspired by origami could be the future of malleable architecture.
To create the material, researchers used a technique called snapology, wherein paper ribbons are folded and woven in such a way that they are able to create cubic collapsable structures, according to the journal Nature. Instead of paper, researchers used polyethylene terephthalate (a type of plastic) and double-sided tape to make 3-D cubic cells. Built in layers, these 3-D cubic cells were capable of forming stiff structures, but when they applied pressure, researchers found that they were able to compress the formation too. 
For the moment, this metamaterial can only be transformed using physical force. However, scientists are currently exploring ways to program the material to take different shapes. They're already experimenting with inflatable pockets that would flatten cells by applying pressure to the hinges. 
The material is strong, but also lightweight. "By folding it flat, the total volume can be reduced by a 100-fold. Moreover, in its flat state the structure could withstand the weight of an elephant without breaking, and pop right back up," co-author Johannes Overvelde told Research Gate.
Read more: Graphene, a Material 1 Million Times Thinner Than Paper, Could Help Us Create Clean Water
That means the material could be especially suitable to regions prone to natural disaster or extreme weather. As Overvelde notes, the material could be ideal for temporary housing as well as a surgical tent. The structure could also be manipulated to accommodate different scenarios. For instance, depending on the outside temperature, the structure could be altered to allow for more light or airflow. 
Going forward, Overvelde told Mic he wants to experiment with different kinds of materials, like aluminum. Next steps include scaling down the technology so they can play with different kinds of formations as well as materials. He also says he wants to play with how the material is actuated. 
"You could have hinges that respond to heat, so by heating it up you could trigger these changes in shape," Overvelde told Mic. "We haven't done this, but there are a lot of people exploring this."
Read more: Scientists Have Developed a Material That Could Render You Virtually Invisible
Over the last several years there have been quite a bit of research around architecture that can change shape on its own, though the field is still relatively new. For instance, researchers at the Massachusetts Institute of Technology's Self Assembly Lab have developed materials that can build themselves using heat, water and other triggers to initiate movement. 
Overvelde says that his lab focuses more on the analytical side of building new materials and that it will seek out partners to help it determine whether this metamaterial can potentially self-build.