Apple Might Be Unveiling the iPhone 7 at This Upcoming Event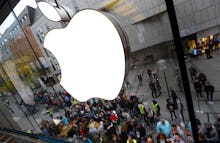 Brace yourselves, iPhone devotees, Apple's newest iPhone may be arriving at the end of the month. The tech giant sent out invitations on Thursday for an event on March 21 at Apple's Cupertino, California, headquarters, ABC News reported, fueling speculation that the company is about to announce the latest version of the iPhone.
Read: Apple May Finally Solve One of the iPhone's Biggest Problems
Rumors about the features of the next iPhone have been swirling for months, including speculation that the next iPhone will have more storage, might forgo a headphone jack and may be waterproof.
ABC News also reported that Apple may unveil a new iPad and a new Apple Watch band at the event, but so far, nothing has been confirmed. The invitation did include a cryptic clue, however: "Let us loop you in" ...  whatever that means.