Who Is Part of the Taylor Gang? Here Are the Artists That Comprise Wiz Khalifa's Squad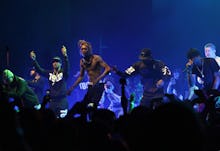 No, Taylor Swift isn't a part of the Taylor Gang. She wishes. Taylor Gang, often shouted out in some of the top hip-hop songs in the past few years, is a record label of hip-hop artists initiated by rapper Wiz Khalifa in 2008.  
In addition to Khalifa, Taylor Gang members include hip-hop artists Juicy J, Chevy Woods, Ty Dolla Sign, Berner, Tuki Carter, Sledgren, J.R. Donato and first lady Courtney Noelle. 
Read more: Beyoncé Sings Whitney Houston's "I Will Always Love You" at Daughter Blue Ivy's School
"It's just what we rep and it's a lifestyle," Khalifa said when asked what exactly Taylor Gang is in a 2011 interview. "A lifestyle, originated by Wiz Khalifa out of Pittsburgh, Pennsylvania," its Urban Dictionary definition reads. "A lifestyle that contains getting high off marijuana, drunk off alcohol and getting money." 
Most of the members are lesser known in mainstream music. Carter released a black and white music video for his single "Yeah." "The track has a bass-heavy undertow, with flat cymbals and a whirring synthesizer dancing on top," Billboard's Elias Leight wrote of the track upon its release.
Noelle signed with Taylor Gang in 2010 and released her debut album Love on the Run in 2014. Noelle told This Is 50 she started writing and recording music when she was 13. She later met up with Khalifa at a Pittsburgh recording studio. "We just stayed in that studio recording like nonstop," she said. 
Source: Soundcloud