NASA Space Launch 2016: Live Video to Play on Space Agency's Website for March 18 Launch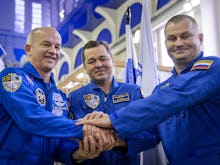 American astronaut Scott Kelly is still getting acclimated to life on Earth after spending a record-breaking 340 days in space. However, while Kelly holds the record for most consecutive days in space by an American, his cumulative record is poised to be broken within the next six months. For its next space launch, NASA will send astronaut Jeff Williams to the International Space Station for six months — where he'll take his total days in space to a record-breaking 534, and you'll be able to check out the launch online. 
Read more: Scott Kelly Is Heading Back to Earth — Here's What NASA Might Discover
The astronauts being sent to the ISS, which also includes cosmonauts Alexey Ovchinin and Oleg Skripochka from the Russian space agency Roscosmos, are set to launch at 5:26 p.m. Eastern on Friday, March 18. The launch will be available on NASA's streaming television service, NASA TV. 
According to the NASA press release, the astronauts will "continue the several hundred experiments in biology, biotechnology, physical science and Earth science currently underway and scheduled to take place aboard humanity's only orbiting laboratory." 
While NASA continues to learn what extended time in space does to the human body through Kelly's return to Earth, let's hope Williams and the rest of the astronauts on the ISS can keep the same, entertaining social media presence as Kelly. Heck, if they're also able to make an appearance on late-night TV, that's a huge plus.