This 1964 Presidential Campaign Ad Is Going Viral Because It Uncannily Applies to Trump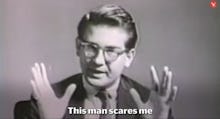 "A friend of mine just said to me, 'Listen, just because a man sounds a little irresponsible during a campaign doesn't mean he's going to act irresponsibly,'" then-famous actor and Republican Bill Bogert said of GOP presidential candidate Barry Goldwater in 1964.
Sound familiar? That's the exact argument many have made about Donald Trump. 
The quote comes from an ad Democrats used against Goldwater, who was challenging Lyndon B. Johnson at the time — the monochromatic soliloquy is entitled Confessions of a Republican. 
And the short video is going viral because of how uncannily applicable it is to the Donald, who even the Republican establishment has tried to distance itself from. The Twitterati invariably caught wind of the parallel and are having fun with it. 
Trump's populism has left many — on the left and right — nervous, as he has consistently capitalized on reactionary and nationalistic sentiments over the course of his campaign. 
"This man scares me," Bogert says of Goldwater. Or was it Trump? I forget.