Who Is Justin Trudeau's Wife? Sophie Grégoire-Trudeau Accompanies Canadian PM's U.S. Visit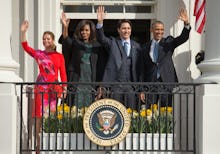 The Trudeaus, the first family of the North, greeted the Obamas on Thursday as they arrived at the White House for their first official United States presidential visit since Justin Trudeau became Canada's Prime Minister last year. Next to Justin Trudeau during Thursday's visit was his wife, Sophie Grégoire-Trudeau, stealing the show. While her name recognition might come second to her husband's, Sophie Grégoire-Trudeau certainly has her own brand. 
A TV personality, volunteer, activist and journalist, Sophie Grégoire-Trudeau is a powerhouse all her own. She won the United Nations Women's National Committee's Canada Recognition Award for her human rights activism and advocacy on a number of issues — from eating disorders and mental health to women and children's issues — according to the Liberal Party of Canada. 
Read more: Canadian Prime Minister Justin Trudeau Says a Woman Will Be Featured on Country's Currency
However, her work in the political field doesn't overshadow her plethora of additional career endeavors. As a reporter, Trudeau worked for a variety of entertainment journalism platforms before co-hosting the CKMF morning radio program, as well as the daily Coup de Pouce radio show on Radio-Canada. 
"Grégoire-Trudeau has a busy life outside of the entertainment industry," iMDB said of Trudeau. "She has studied classical flute and the guitar and has practiced ballet, jazz, African dance and yoga. She is also an active philanthropist, and devotes time to numerous charities. She works with The Shield of Athena, a non-profit organization for victims of family violence and is a frequent public speaker on women's issues. She has acted as spokesperson for Dove Self-Esteem fund/Pay Beauty Forward program and BACA Foundation, which supports the BACA eating disorder clinic in Quebec."
Today, Canada's first lady has become a fashion icon, and a rather chic woman to be the wife of a Canadian prime minister, as the New York Times noted Thursday. "To be sure, Ms. Grégoire-Trudeau has definitely joined the ranks of Canada's stylish prime ministers' wives," the Times reported. 
Now, as the Trudeaus continue their trip in the U.S., it looks like all eyes will be on our friendly — and rather good-looking —  neighbors from the north.