Justin Trudeau: Pandas, Boxing, Tattoos – Why We're Obsessed With Canada's Prime Minister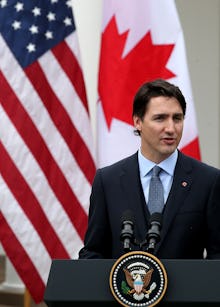 Justin Trudeau, the son of former Prime Minister Pierre Trudeau, is the second youngest Canadian prime minister in history. He also boxes in his free time, enjoys spending hours with pandas, and has a tattoo on his left arm. 
Trudeau, a breath of fresh air from conventional politicians, has captured the hearts of many worldwide, not only because of his handsome features, but because of his seemingly genuine willingness to introduce change. 
Read more: Justin Trudeau Given New Name, Honorary Membership by Indigenous Tsuut'ina Nation
The young prime minister appointed a diverse group of 15 women to his cabinet, along with 15 men, in an effort to showcase Canada's commitment to diversity under his leadership. "It's important to be here before you today to present to Canada a cabinet that looks like Canada," the 44-year-old told reporters after he was sworn in, according to The Guardian. 
Trudeau also welcomed 25,000 Syrian refugees into Canada, during a time when many politicians were calling on closing the borders. "This is a wonderful night, where we get to show not just a planeload of new Canadians what Canada is all about, we get to show the world how to open our hearts and welcome in people who are fleeing extraordinarily difficult situations," the prime minister said after personally welcoming the first of the refugees, according to ABC News.
Trudeau appears to be a liberal's dream. He is pro-choice, opening advocating for women's rights. He is pro-marijuana, admitting to having smoked in the past. And he recently announced that a woman will be featured on Canada's next bank note. 
As the first Canadian prime minister in nearly 20 years to be invited to a White House state dinner, Trudeau believes Canada can have a strong relationship with the United States. "I'm confident that by working together, we'll get there sooner than we think." Trudeau said, according to NBC News.