The Donald Trump Supporter Who Sucker-Punched a Black Man Later Threatened to Kill Him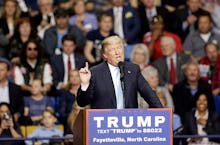 The Donald Trump supporter who was arrested and charged with assault Thursday after sucker-punching a black protestor at a Trump rally in Fayetteville, North Carolina on Wednesday told Inside Edition he deserved it, suggested he could be a terrorist with ISIS and threatened to kill him.
"You bet I liked it," 78-year-old John McGraw told Inside Edition on whether he enjoyed punching 26-year-old Rakeem Jones. "Knocking the hell out of that big mouth. Number one, we don't know if he's ISIS. We don't know who he is, but we know he's not acting like an American, cussing me... If he wants it laid out, I laid it out."
"The next time we see him, we might have to kill him," McGraw added. "We don't know who he is. He might be with a terrorist organization."
McGraw punched Jones in the face as he and other black protesters were being escorted from the rally by local officers. "Boom, he caught me," Jones told the Washington Post in a telephone interview. "After I get it, before I could even gain my thoughts, I'm on the ground getting escorted out. Now I'm waking up this morning looking at the news and seeing me getting hit again." 
Read more about the incident here.