Canadian Prime Minister Justin Trudeau Is the Anti-Trump — And It's Working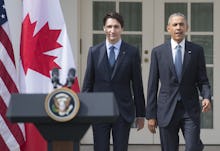 WASHINGTON, DC  — On Thursday morning, in a full display of political pageantry marking the first state visit by a Canadian leader to the United States in 19 years, Canadian Prime Minister Justin Trudeau joined President Obama in kissing babies, shaking hands and delivering speeches reaffirming the strength of the U.S-Canada relationship on the White House South Lawn.
Later that morning, as Obama and Trudeau stood side-by-side at a press conference in the White House Rose Garden — their bromance on full display — one couldn't help but feel the striking parallel between Trudeau, a 44-year-old internet heartthrob who's promised Canada hope and change, and Obama, now the elder statesman, who ran on the very same platform back in 2008. 
But neither the nostalgia nor the pomp were the most striking aspects of Trudeau's historic visit to Washington.
Instead, it was Trudeau's tone of optimism, and his embrace of a style of politics marked by positivity, inclusion and equality, that truly shined through. Practically everything about his values comes in stark contrast to what we've heard from Republican front-runner Donald Trump, who has dominated the 2016 election cycle with divisiveness, anger and fear-mongering.
Take, for example, immigration. While Trump has repeatedly called for building a wall with Mexico to keep out immigrants, Trudeau declared Thursday that Canada has "decided to make our borders both more open and more safe." In a recent appearance on 60 Minutes, Trudeau echoed that sentiment, saying, "Being open and respectful towards each other is much more powerful, as a way to defuse hatred and anger, than layering on big walls and oppressive policies."
Or take Islamophobia and refugees: While Trump has consistently called for a ban on Muslims entering the United States, including Muslim-Americans currently outside the country due to travel, Trudeau has personally welcomed Syrian refugees to Canada, saying that embracing tolerance and inclusion is a "nice punch in the face to ISIL."
In an election cycle dominated by xenophobia and divisiveness disguised as populist politics, Trudeau represents a breath of fresh air, the necessary antidote to Trump's divisive style of leadership.
The stakes for Trudeau's first term are extremely high, and the question now is whether he can match actions with words, and show the world that his politics of positivity, and not Trump's politics of negativity, can work.
Either that, or he may have to brace for the exodus of Americans who say they will flee to Canada if Trump's brand of politics wins out.
Get the five stories that will challenge you to rethink the world by signing up for MicCheck Daily.