Everything You Missed From the GOP Debate in Miami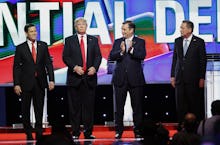 The four remaining candidates for the Republican presidential nomination clashed in Miami Thursday, making their cases for themselves — and against frontrunner Donald Trump — ahead of a round of critical primaries on Tuesday.
The CNN-sponsored debate had flashpoints over everything from Cuba to the economy, but was marked by a notably more civil and dignified tone than the last showdown, which featured cringeworthy exchanges about the size of hands and other body parts.
Thursday's debate marked a critical moment for Marco Rubio, who could face an embarrassing defeat to Trump in Florida on Tuesday, while Ted Cruz continued to make his case as the best man to stop the frontrunner from taking over the GOP. John Kasich looked forward to the coming contest in his home state of Ohio.
We captured the night's highlights below:
1. The debate opened with a discussion about trade.
The debate kicked off with a discussion of free-trade agreements, with the candidates expressing a range of views on the matter.
Kasich called for cracking down on countries that violate the terms of trade agreements.
"My position has always been we want to have free trade, but fair trade," Kasich said. "And I've been arguing all along that it is absolutely critical that when other countries break those agreements, we don't turn the process over to some international bureaucrat who comes back a couple years later and says, 'oh, America was right and people are out of work.' The fact of the matter is we have to have an expedited process."
Trump cited his experience as a businessman, saying it equipped him with the know-how to change the rules of the global trading game.
"I'm the one that knows how to change it," he said. "Nobody else on this stage knows how to change it like I do. Believe me."
Rubio evinced more optimism on the topic.
"Our people are the most innovative on this planet" he said. "If it's a free and fair trade deal we can compete against anyone in the world and we need to in the 21st century."
Meanwhile, Cruz explained his newfound opposition to the Trans-Pacific Partnership trade agreement by citing what he called the negative consequences of trade agreements.
"We're getting killed in international trade right now," he said. "And we're getting killed because we have an administration that's doesn't look out for American workers and jobs are going overseas." — Luke Brinker
2. Trump confirmed Ben Carson will endorse him on Friday.
During a discussion of his opposition to the Common Core education standards, Trump confirmed an earlier Washington Post report that he'd soon announce an endorsement from one of his former rivals.
"I was with Dr. Ben Carson today, who is endorsing me, by the way, tomorrow morning, and he is — we were talking. We spoke for over an hour on education. He has such a great handle on it," Trump said of his former foe, who ended his longshot bid for the GOP nomination a week ago.
Trump said he would ask Carson, a retired pediatric neurosurgeon, to weigh on education reform.
The timing of the Carson endorsement matters for several reasons: Besides potentially earning Trump the support of his ex-rival's backers, it bolsters his argument that he's the man to unite the GOP on the way to November.
Bonus: Carson lives in winner-take-all Florida, which votes Tuesday. — Celeste Katz
3. Rubio promised not to bankrupt his mother.
Given the chance to clarify his position on entitlement programs, Rubio made clear that he's not in favor of anything that would bankrupt his mother.
"There are about 3 million seniors in Florida, with Social Security and Medicare. One of them is my mother, who happens to be here today. I'm against any changes to Social Security that are bad for my mother."
Still, Rubio argued, the long-term fiscal health of the country required entitlement reforms for younger Americans, including gradually increasing the retirement age to 70. — Luke Brinker
4. Rubio and Cruz finally bothered to start attacking Trump.
With everything at stake, Rubio took aim at the frontrunner during a segment on how to keep Social Security solvent.
"You are talking about [saving money by cutting] waste, fraud and abuse," Rubio said. "An independent bipartisan organization, the committee for a responsible federal budget, says improper payments like you are talking about, that would only save about $3 billion -- but it would take $150 billion to make Social Security solvent."
The billionaire replied, in part, that he wasn't looking for any government supplement himself: "I'm self-funding my campaign. Nobody is going to be taking care of me. I don't want anybody's money," he said. "We'll go out to bid in every facet of our government. We're going to save a fortune."
Cruz jumped in: "The answer can't just be wave a magic wand and say 'Problem, go away.' You have to understand the problems. You have to have real solutions."
When Cruz used his opposition to ethanol mandates in Iowa as a sign that wouldn't always take the politically popular road when it came to cutting government spending, Trump poked back by accusing him of in fact doing just that.
"If you look back to Iowa, Ted did change his view and his stance on ethanol quite a bit at the end," Trump retorted. — Celeste Katz
5. Trump: "I cannot believe how civil it's been up here."
Sounding like a standard-bearer ready to unite the GOP's disparate factions, Trump noted the evening's relatively subdued tone.
"I would say this. We're all in this together," Trump said. "We're going to come up with solutions. We're going to find the answers to things. And so far I cannot believe how civil it's been up here."
Given the tone and tenor of previous debates, neither could many viewers — but some observers saw Trump's remarks as a commentary on how he's single-handedly upended the dynamics of the GOP race. — Luke Brinker
6. Trump: "A lot" of the world's 1.6 billion Muslims hate the U.S.
Trump doubled down on his contention that Muslims hate the U.S. and mean the country harm:
Read more here. — Celeste Katz
7. Rubio seized a moment on Cuba.
Under tremendous pressure to win his home state in a week, Rubio went all out on the subject of normalizing U.S. relations with Cuba, the birthplace of his parents.
With Obama preparing for a historic journey to the island nation, Rubio took a stand against the White House approach as simply foolish.
"There are now millions and hundreds of millions of dollars that will flow to the Castro regime. It will allow them to set permanent and in stone, carry out a transition where the military continues to run the country. They'll put a puppet figure forward to run the country; there has not been a single change on the island in human rights," Rubio charged.
"The only thing that has changed is now the Cuban government has more sources of money from which to build out their oppressive apparatus — and we asked nothing in return."
The topic of Cuba is not only personal to Rubio, but potentially of strategic political importance: Cuban immigrants concentrated around Miami have traditionally been a Republican stronghold. However, young Cubans and Latinos of other national heritage don't necessarily cleave to the same hard-line views on restoring relations. — Celeste Katz
8. Trump praised Putin's "strength," but said he wasn't endorsing him.
The frontrunner faced questions about having called Russia's Vladimir Putin a strong leader and about China having come down brutally in 1989 on student protesters in Tiananmen Square.
"That doesn't mean I was endorsing it. I said it was a strong, powerful government that put it down with strength. It doesn't mean at all I was endorsing," Trump protested.
"As far as Putin is concerned, I think Putin has been a strong leader for Russia. He's been a lot stronger than our leader — and that doesn't mean I'm endorsing Putin," the candidate added of a man he's previously said he'd get along with quite well.
Asked if he was hedging on incidents that have been called atrocities, Trump continued, "I used to think [German Chancellor Angela] Merkel was a good leader, and what she's doing is an atrocity. I can name many strong leaders; I could name many weak leaders. I don't say that as a good way or bad way. I say it as a fact." — Celeste Katz
9. Trump addressed violence by supporters at his campaign rallies.
Asked about the case of a supporter charged with sucker-punching a black protester at a recent Trump rally, the frontrunner said he didn't "like" what he'd heard about the case, but extolled the "passion" of his supporters.
"They come with tremendous love and passion for the country. You're mentioning one case, I haven't seen, I heard about it, which I don't like," Trump said. "When they see what's going on in this country, they have anger that's unbelievable."
Confronted with his own rhetoric about protesters — including his statement in February that he'd like to "punch" one "in the face" — Trump said he was only responding to the tactics of "bad dudes."
"We have some protesters who are bad dudes, they have done bad things," he said. "They are swinging, they are really dangerous and they get in there and start hitting people." — Luke Brinker
10.  Cruz called a brokered convention "an absolute disaster."
The Texas senator, who's beaten Trump in a handful of states and is trying to get the anti-frontrunner forces to unite behind him, spoke against leaving the nomination to the tender mercies of July's Republican National Convention in Cleveland.
"You know, there are some in Washington who are having fevered dreams of a brokered convention," Cruz said, describing what could happen if no one outright captures the 1,237 delegates needed for the GOP nomination.
"They're unhappy with how the people are voting and they want to parachute in their favorite Washington candidate to be the nominee," Cruz said. "I think that would be an absolute disaster. We need to respect the will of the voters. I ask everyone to come together and stand together and beat Hillary Clinton in November."
Trump said he should have no problem pulling together the delegates to carry the GOP standard to the general. — Celeste Katz
11. Trump claimed he's turned down "probably $275 million" by not taking outside contributions.
Which is not even in the same neighborhood as the truth. Good night! — Stefan Becket