At Debate, Trump Praise for Tiananmen Square Massacre Sparks Outrage Online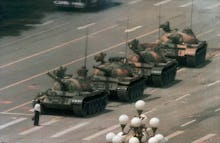 As far as 2016 Republican debates go, the GOP's most recent matchup in Miami on Thursday was noteworthy for its calmness. Gone were the crude insults, petulant back-and-forths and rumination about penis size.
One comment, however, made by Donald Trump more than 25 years ago, in which he seemingly defended the Chinese Communist party's massacre of pro-democracy protests in Tiananmen Square, came back to haunt the candidate onstage.
"When the students poured into Tiananmen Square, the Chinese government almost blew it. Then they were vicious, they were horrible, but they put it down with strength," he told Playboy in 1990, according to the Independent. "That shows you the power of strength. Our country is right now perceived as weak."
The massacre on June 4, 1989, in the heart of the Chinese capital left untold hundreds dead and nearly toppled the country's Communist oligarchs. Its memory still lingers in China as a point of unique unease to this day.
Trump — true to form — refused to back away and denied that his use of the word "strength" more than a quarter-century ago should be taken as an endorsement. "Strong doesn't mean good," he told moderator Jake Tapper, referring to another controversial leader Trump has praised, Russia's president Vladimir Putin. 
The Republican frontrunner faced broad denouncement on Twitter — with a number of people suggesting that the real strength lay with the mostly student protesters and not the tanks with mowed them down.
But as Trump continues what increasingly seems to be his inexorable march to the nomination, this latest 15 minutes of outrage will likely fade away with all the others.