'Joe's Crab Shack' Serves Up Photo of 19th Century Execution of Black Men at Tables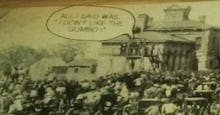 A Joe's Crab Shack in Roseville, MN is under fire after displaying an image of an 1895 Texas hanging of black men at one of their tables.
The tables of the restaurant each appear to have been embedded with a historical photo. To add insult to injury, the image of the hanging also included a joke in the form of a bubble caption from the scaffold reading, "All I said was 'I don't like the gumbo.'" 
The Minneapolis chapter of the NAACP blasted the photo, calling it a lynching. 
"It is sickening to know that someone would make a mockery of black men being savagely lynched and then use that imagery for decorative purposes in a restaurant," chapter president Nekima Levy-Pounds said, KPNX reported. 
Tyrone Williams and Chauntyll Allen, the two African-American patrons who discovered the photo during an early birthday dinner, didn't stay for the menu.
"Me and Chauntyll, we just felt sick and confused," Williams told CBS affiliate WCCO. "It was just sickening."
According to the pair, the restaurant was profusely apologetic, telling them they had never seen the photo before but suggested that the table manufacturer has probably sent others into distribution as well. 
The NAACP is seeking a full apology from the restaurant chain's corporate headquarters, though it probably won't be enough for Williams.
"We will no longer be eating in any Joe's Crab Shack," he said in a press conference. 
Read more: How Facebook and Twitter Geotagging Is Exposing Racist Trolls in Real Life
Correction: (3/11/2016) An earlier version of this story erroneously reported that the "Joe's Crab Shack" in question was located in Minneapolis, MN. It is actually located in Roseville, MN. We have updated the story to remove the error.
Update: (3/11/2016) We have updated the story to better reflect the tension between "hanging" and "lynching" in the photo.