Ariana Grande New Album 'Dangerous Woman': Release Date, Track List and More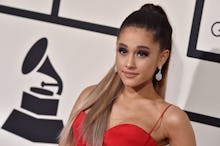 "Love Me Harder" singer Ariana Grande simultaneously dropped a new single titled "Dangerous Woman," which is also the title of her upcoming LP, and made the anticipated album available for preorder on iTunes Thursday. Here's what we know about the album's expected release date, track list and more.
Dangerous Woman release date: The album's expected release date is May 20.
Grande announced the new single and preorder news on Twitter Thursday. "Babes, I love you!" the singer wrote. "It's finally here!" This comes after Grande pulled a mild Kanye West by changing the name of the album from Moonlight to Dangerous Woman in January.
Read more: "Dangerous Woman" Lyrics: Ariana Grande's Title Track Off New Album Has Femme Fatale Flair
Dangerous Woman track list: More than half the slots on the album's 15-song track list are still blank on iTunes, but here are the confirmed tracks:
2. "Dangerous Woman"
3. "Be Alright"
4. "Into You"
6. "Let Me Love You" (featuring Lil' Wayne)
If Dangerous Woman is representative of the forthcoming album, it shows Grande's sound is maturing — like Selena Gomez's "Hands to Myself" evolution. Grande's music has long been provocative and romantic, but the new single's melody is less poppy and more Aretha Franklin's "A Natural Woman," sultry yet rough around the edges. 
March 11, 2016, 12:50 p.m. Eastern: This story has been updated.