7 Artists You Should Know From the Panorama Festival Lineup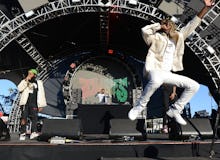 New York City music festival history will be made from July 22 to July 24, with the inaugural Panorama Festival, produced by the same company behind Coachella, Goldenvoice. General admission passes cost $369 for three days, and there are no single-day passes available. But that's not a problem, since the lineup for the entire festival is pretty killer.
Read more: Panorama Festival 2016: Dates, Lineup and Ticket Info for NYC Concert Series
The Grammy winners and nominees headlining each of the three days rightfully deserve their spots: Arcade Fire, Kendrick Lamar and LCD Soundsystem. The headliners are joined by more big-name artists like ASAP Rocky, Alabama Shakes, Major Lazer and Sia. 
But it's the up-and-coming artists, many on the still brink of stardom, who really carry any sort of music festival. Here are seven artists from the smaller front, who you should listen to before inevitably buying your Panorama ticket:
1. Classixx
Source: Soundcloud
Dubbed "beachy disco" by Radio.com, Californian duo Tyler Blake and Michael David are masters of mixing and remixing with a wide variety of vocalists (like T-Pain and LCD Soundsystem's Nancy Whang) for disco dance synths that stay lush. Think danceable hipster house music. "Classixx are very good producers — their sonic excursions are placid and stylistically considered, with plenty of surface beauty, if not a ton of depth — but the biggest surprise of Hanging Gardens is that they're great songwriters, too," Pitchfork wrote of their 2013 debut LP.
2. Holy Ghost!
Source: Soundcloud
Synthpop duo Holy Ghost! is comprised of childhood friends Nick Millhiser and Alex Frankel, who churn out upbeat indietronica tracks that are more than easy to dance to. Holy Ghost! sounds like the younger sibling to Cut Copy or Hot Chip. So make sure to wear comfy shoes if you choose to see their Sunday set. 
3. Jai Wolf
Source: Soundcloud
Jai Wolf speedily climbed the ranks of electronic music, garnering the attention of DJ Skrillex in 2014, when he tweeted out a remix of Skrillex's own "Ease My Mind," Vice reported. Skrillex released Wolf's mix on his own label, which launched Jai Wolf into playing at Coachella. His sounds surround you in lush, poppy sparkles similar to that of his friends Odesza. 
4. Flosstradamus 
Source: Soundcloud
Emerging at lightning speed in the electronic dance music scene is trap duo Flosstradamus and their #HDYNATION movement that follows closely behind. Curt Cameruci and Josh Young make up the DJ duo, who have turned up at countless festivals. "The electronic trap coming from the stage was like a caricature of its Southern ancestor — exaggerated and cartoony," the Washington Post wrote of the beat-slinging duo. "The booming bass and 808 drum-machine high-hats that are staples of Southern hip-hop production blended with synth sounds often heard in house and trance as the duo weaved seamlessly between rap songs and dance instrumentals." In other words, they're a guaranteed party for Panorama. 
5. Oh Wonder
Source: Soundcloud
Indie London duo Oh Wonder are a more pop-inflected version of the XX, with a dash of Sylvan Esso. The two play off each other well — harmonizing in and out of their measured instrumentals. "The male-female vocals are right upfront in the mix, and you can hear their every lovelorn word as they sing wanly over sparse beats and spacious settings," the Guardian wrote. 
6. Tourist
Source: Soundcloud
Tourist is the alias for William Phillips, an electronic artist and self-taught pianist from London. His shows are similar to Disclosure's, Billboard reported. "You know a venn diagram," Phillips told Billboard. "My left circle would be electronic music and the right circle would be emotions, atmosphere, honesty. It's not straight up dance music." 
7. Flatbush Zombies 
Source: Soundcloud
As implied by their name, Flatbush Zombies are a rap group from Brooklyn, New York. Their flows and lyrics are just as gritty as their production. "Their demented approach to the rap game puts them in a category all their own, and they continue to distance themselves from traditional sounds here, making sure that we know there's still a chance they aren't human," Consequence of Sound wrote about the group after their second mixtape, Better off Dead.