Wilkinsburg, Pennsylvania, Mass Shooting Claims 6 Black Lives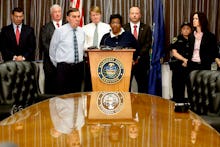 Six people are dead after a pair of gunmen opened fire at a barbecue in Wilkinsburg, Pennsylvania, Wednesday night.
Four women, one man and an unborn child — whose death coroners ruled a homicide Thursday — were shot at a private residence in what authorities are calling a coordinated attack, the Associated Press reported.
One of the gunmen appears to have herded the victims toward an accomplice, who then shot them all in the head with a rifle near the back porch, according to the report. 
Neither of the shooters have been identified, but the five adult victims have: Chanetta Powell, 25, who was pregnant; Brittany Powell, 27, who lived at the home; Jerry Shelton, 35; Shada Mahone, 26; and Tina Shelton, 37. All of the victims are black.
Two more people were critically injured in the shooting, but police still do not have any suspects. "The murders were planned," Allegheny County District Attorney Stephen Zappala said, according to AP. "They were calculated, brutal."
While outlets across the country have given it some coverage, the incident has largely been spared the 24-hour news cycle treatment granted the likes of other recent attacks, like that in Kalamazoo, Michigan, in February — where a 45-year-old white, former Uber driver named Jason Dalton allegedly killed six people in one night.
Wilkinsburg's population is 66% black, while about 22% of the total population lives below the poverty line, according to the city's website. There were 325 mass shootings with four or more victims — injured or dead — in the U.S. in 2015, and 45 so far in 2016, according to the Gun Violence Archive.
Wilkinsburg residents said the street where the shooting occurred was generally quiet, AP reported. The Pittsburgh suburb is reportedly known as a place where drug trafficking and violence are common, but the house where Wednesday night's barbecue took place was seen as a "safe haven," according to the report.
People from around the neighborhood gathered near the house after the shooting, some crying and saying they lost members of their families.
"This is unheard of," Mike Jones, a 57-year-old neighbor, told AP. "It doesn't happen around here."
h/t Associated Press