Cheryl Cole, Liam Payne's Girlfriend, Pens Note About Female Empowerment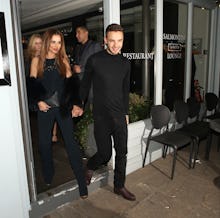 Fresh off the drama that erupted around International Women's Day after Kim Kardashian West posted a nude selfie on Twitter Monday and a plethora of influential women had something to say about it, singer and Liam Payne's girlfriend Cheryl Cole warded off haters of her and Payne's newly publicized relationship by reminding all females that "girls compete with one another" but "women empower one another."
"It can be so hard at times being a girl, for so many reasons!," Cole captioned an Instagram post. "But we don't have to make it harder for each other ... Why do we still feel the need to do that??" 
Read more: Kim Kardashian West Doesn't Want to Hear You Slut-Shame Her for Her Sex Tape Anymore
"I don't understand it," she continued. "I have always been a girls girl, and love other strong women. That is why I surround myself with them, and that is why I try to empower others. Trying to pull another person down, only speaks volumes about your character! And not a thing about theirs ... There's nothing more powerful or beautiful than an inspiring, strong women that you can look up to or turn to ... Be one!!!"
Her message was more G-rated but similar to singer Miley Cyrus' Instagram post this week squashing both sides of the argument circulating around Kardashian West's naked picture. "Dear women, you all are acting tacky af!" Cyrus wrote. "Why don't we overly (myself included) fortunate women come together and try to create and bring jobs to other women in desperate need of them so they can support not only themselves but their families!"
Fans went off on 32-year-old Cole when Payne posted his first selfie of the couple on Instagram last week. "Abuela," one of his followers commented, which is Spanish for grandma. "She's too old for youuu," the follower added. "Liam payn & his grandma!!!" another wrote.