Apple's March 21 Event: New iPhone, iPad Pro and iPad Air 3 Anticipated to Be Revealed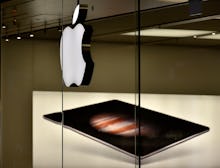 On Thursday, the invitations for Apple's long awaited and talked about March 21 event went out, according to Gizmodo. The invitation, which says "Let us loop you in," was outfitted in every current color of the iPhone, indicating that the unveiling of the new and smaller iPhone is most definitely going to happen. Also expected at the event is the new 9.7-inch iPad Pro or Air 3.
The two products have been under speculation for quite some time now, and both represent shifts to smaller sizes, according to Gizmodo.
Read more: Before You Crown Apple the People's Champion Against the FBI, Read This
The new iPhone isn't the iPhone 7 quite yet, but is rather an upgraded version of the iPhone 5s that's been glamorously renamed the iPhone SE that stands for "special edition." Although a mere 4 inches, the phone may have the same processor and speed as the iPhone 6. It should be available in rose gold as well. 
Last year, Apple released the iPad Pro, and there've been rumors that they've been working on an updated version of it. The new version is expected to work with the Smart Keyboard and Apple Pencil.
It's been about a year since the Apple Watch was first unveiled, but its second generation probably won't debut until later this year, CNET reported. 
Apple must be having a busy week since it's also in the middle of a legal battle with the FBI on giving away access to the San Bernardino, California shooter's phone.