Will There Be a Season 2 of 'Master of None'?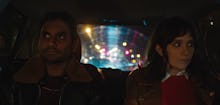 Aziz Ansari's critically acclaimed Netflix series, Master of None, has been renewed for a second season, according to Variety. While the show's renewal was expected, it wasn't clear how soon production for a follow-up season would begin.
Ansari previously explained he needed some time to "refill his head" with new and better ideas in order to avoid a sophomore slump, Variety reported. In February Ansari tweeted a teaser, indicating he had enough fodder for a second season of Master of None, and announced a 2017 premiere.
Read more: Aziz Ansari's 'Master of None' Presents a Realistic Portrait of Modern Dating
Master of None has been praised for its diverse cast and its smart commentary about subjects like gender, race and ethnicity. "Even though I've sold out Madison Square Garden as a standup comedian and have appeared in several films and a TV series, when my phone rings, the roles I'm offered are often defined by ethnicity and often require accents," Ansari wrote on being a minority actor in Hollywood for the New York Times in November.
When the first season of Master of None won the 2016 Critics Choice Award for best comedy series, co-creator and producer Alan Yang made a quip about the show's diversity during the acceptance speech. "Thank you to all the straight white guys who dominated movies and TV so hard and for so long that stories about anyone else seem kind of fresh and original," Yang said. "Because you guys crushed it for so long that anything else seems kind of different."
Season one of Master of None is now streaming on Netflix.