Beyoncé Said Being a Mom Is Her Greatest Accomplishment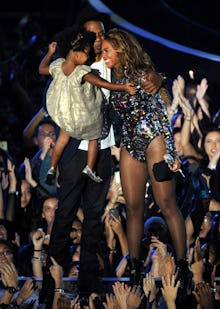 In an interview with Garage magazine, her first in two years, Beyoncé shared her greatest achievement. No, it wasn't any of her 20 Grammys, or when she performed at the Super Bowl (twice!), or the fact that she's the world's leading pop icon. It was when she gave birth to her daughter, Blue Ivy Carter. 
"Out of everything I've accomplished, my proudest moment hands down was when I gave birth to my daughter Blue," Beyoncé said. 
Given that Beyonce has frequently emphasized the role family and parenthood play in her life, it seems fitting that she would highlight Blue's birth as one of her top successes. And certainly, she's entitled to feel that way. But the fact that Queen Bey lists motherhood as her greatest triumph in spite of all her other successes speaks volumes about the way domestic achievements are supposed to rank in women's lives — that is to say, above the rest. 
For her part, this is certainly not the first time Beyoncé has heaped praise on her child, her role as a mother or motherhood more broadly. In the same Garage interview, Beyoncé describes her own mother, Tina, as her "biggest hero." And, about a year after Blue's birth, Bey described her daughter as "my road dog ... my homey, my best friend" in a 2013 interview with Vogue, adding she felt more "grounded" after having a baby. 
"Family has always been important. I've always had my mother and my father and my husband. But it's just... Life is so much more than... It's not defined by any of this," Beyoncé told Vogue, describing her fame and career. 
Yet the star's statement about her pride in having a baby is striking given that, for much of her life, she has focused almost exclusively on her career. Bey's path to world domination started when she was just a kid; she was still a teenager when she won her first Grammy with Destiny's Child. She is known for being a tireless perfectionist and single-minded in her determination to slay. And yet despite her mind-boggling success, Beyoncé still ranks motherhood — the one goal that all women are expected to strive toward — as her greatest achievement.  
It's not uncommon for powerful women to prioritize motherhood over all other achievements. Fashion designer and entrepreneur Victoria Beckham has made similar statements, and even Hillary Clinton has made a point of emphasizing her roles as mom and grandma, including them in her Twitter bio (for the sake of comparison, her husband does not). And it might well be the case for Clinton, Beyoncé and many parents that parenthood is, indeed, the greatest accomplishment of their lives. 
Our cultural narratives dictate, however, that regardless of how impressive their resumes might be, women are meant to have babies and spend their time happily devoted to them. We expect that all women become mothers and treat child-rearing as if it should be the most fulfilling vocation in the world, to the point that women who don't have children are seen as selfish, cold or broken. There's excessive pressure on women not only to have children, but to claim their roles as parents as their crowning achievement. 
While it is, of course, perfectly fine for Bey and other mothers to cite parenthood as a point of enormous pride (you do you, no shame), it's tough to ignore the cultural context of such a statement. She and women like Clinton set a gold standard for what it looks like to "have it all" in a world that makes doing so damn near impossible.
Given the hurdles most working moms must overcome, then, wouldn't it be refreshing for one of the most professionally accomplished women in the world to value her career and family accomplishments equally? To say, "You know what? I really love being a mom, but I'm most proud of the work I've done"? 
Maybe. Let's see what happens after Beyoncé's next Super Bowl.