Ai Weiwei, Pussy Riot and Edward Snowden Are About to Be Plastered All Over the Internet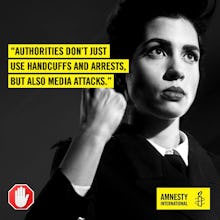 Amnesty International just figured out a way to slather the internet with powerful political messages, cover up advertisements and turn corporate space into a powerful hub for free speech.
In order to spread activist, anti-surveillance messages, Amnesty International teamed up with AdBlock to replace online ads with messages promoting freedom of speech for AdBlock's 50 million users. Where there would normally be ads, there are now campaign banners featuring pro-speech messages from Ai Weiwei, Edward Snowden and Pussy Riot — all of whom have been held as political prisoners.
The effect is as if all of the ads on the internet were vandalized and plastered over.
"Free speech online is under serious threat as governments seek ever greater powers — through new laws and more intrusive technologies — to control the internet," Salil Shetty, secretary general of Amnesty International, said in the campaign's release. "When they are not shutting down websites and arresting bloggers, they are carrying out mass surveillance of our internet use."
Strange bedfellows: AdBlock is a powerful partner with which to team up for this campaign, because they can manipulate the way their users see the internet. But regardless of how effective they are, AdBlock is an ironic choice to promote free speech.
Consider this: Most modern media organizations that support the work of journalists lean on some kind of advertising model to stay afloat. Ad blocking is a technology that may protect users from a certain kind of data collection, but it also threatens the livelihood of organizations responsible for exercising often dissident speech.
"Advertising is the form of monetization that has freed the media from the dominance of the state," Interactive Advertising Bureau CEO Randall Rothenberg said in a speech in January. "It supports the diversity of the press [...] and these ad companies make money on trying to shut that down."