Ben Carson Just Endorsed Donald Trump for President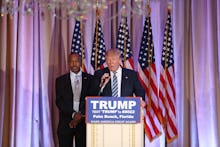 Former Republican presidential hopeful Ben Carson has officially endorsed Donald Trump for president. 
The news comes approximately 12 hours after Thursday night's GOP debate at the University of Miami, in which Trump said Carson would support him.
During a press conference in Palm Beach, Florida, on Friday morning, Carson described Trump as "a very intelligent man who cares deeply about America," according to Time.
"There are two Donald Trumps," the former candidate added. "There is one who sits on the stage and the one who is cerebral ... and that's the one you are going to start seeing more and more of."
Carson echoed his sentiments in the press conference with announcements across his various social media accounts. On Twitter, he described Trump as "a leader with an outsider's perspective" who would "return the government to, 'We the People.'"
Carson's remarks across various platforms endeavored to eclipse Democratic candidate Bernie Sanders by repeatedly referring to Hillary Clinton, who has yet to officially clinch the nomination.
"Join me in supporting and rallying around the only candidate the GOP has that can defeat Hillary Clinton in 2016," Carson wrote in his Facebook post, with no mention of Sanders. 
Trump appeared equally smitten, hugging Carson during the press conference. "It's such an honor to have Ben," Trump said, the Guardian reported. "He's a friend, he's become a friend and I really appreciate the endorsement."
However, Twitterati were quick to pick up on the inconsistencies of the Trump-Carson bromance. Some began retweeting Trump's own words — one such examples is a tweet from The Donald from November, in which he described Carson, who was still a competitor at that point, as "weak."
Notwithstanding his previous comments, the GOP frontrunner indicated there could be an official role for Carson in a Trump-led America. 
"Ben's going to have a big, big, part," Trump said, according to the Guardian. "Maybe Ben doesn't know that yet. But he's going to have a big part."